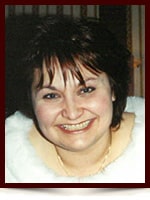 Michelle Diane (Tally) Petasky
On Tuesday November 22, 2016 Michelle Diane (Tally) Petasky of Edmonton passed away at the age of 47.
Michelle leaves behind her loving children: Chantelle Gibbs (Noah Keith), Shane Gibbs of Edmonton; her parents: Diane (stepdad Tom Evans) Tally of Edmonton and her father Dan Tally of Edmonton; sisters: Leanne (Paul) Zukowski of Kelowna, Danielle (Ray) Dalton of Edmonton, stepbrother Chris (Susanne) Evans of Edmonton; her nieces: Kassandra, Mykayla and Henna; her nephews: Brody and Renton; three grandchildren: Benjamin, Braelyn and Kaeden; her grandmother Lucy Evans as well as numerous other family and friends. Michelle was predeceased by her grandparents Steve and Kate Smolak and Mac and Anna Tally.
Visitation
9:00AM - 10:00AM Friday December 2, 2016
Trinity Funeral Home
10530-116 Street Edmonton, AB
Funeral Service
10:00AM Friday, December 2, 2016
Trinity Funeral Home
10530 116 Street Edmonton, AB
Interment
St. Michael's Cemetery
Memorial Donations
Canadian Diabetes Association
1400-522 University Avenue Toronto, ON M5G 2R5