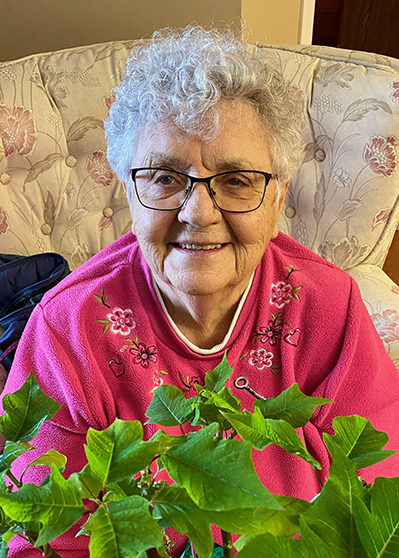 Mickey Johnston
October 12, 1934
-
May 17, 2023
Marion Nellie Johnston, known universally as Mickey, was born on October 12, 1934, in Ituna, Saskatchewan. She was the youngest of nine children (Howard, Carl, Joe, Paul, Walt, Christine, Lester, Grace) to Louis and Johanna Baron and grew up on the farm near Carberry, Manitoba. Being the youngest child with an oldest brother 20 years her senior, Mickey established close relationships with her nieces and nephews, many of whom were close in age to her. She loved horses and talked fondly of riding Blackie to school – uphill, both ways!
After high school, Mickey left Carberry to pursue an education in lay ministry, and she graduated from Ewart College, a Missionary and Deaconess training school, in 1955. It was during a summer job in Caragana, Saskatchewan, she met her future husband, George, a Presbyterian minister serving a few rural Saskatchewan congregations. They were married in the middle of a snowstorm on December 1, 1955.
George was called to serve the Presbyterian congregation in Cranbrook, BC, and it was during their time there that Greg was welcomed into the family. Two years after Greg's arrival, while living in Prince Albert, SK, they adopted Bev, then Murray and Lynn, each two years apart. Imagine their surprise when Sue came along (naturally) two years after Lynn.
Mickey was always active in the church and with her kids' activities and interests. She taught church school, CGIT and church youth groups, was a Cub leader, a hockey and figure skater mom, and a winter skating rink builder. She participated in various church groups such as WMS and Lady's Aid, and volunteered for any and all projects that came along.
The family moved to Ingersoll, Ontario, in 1970, and as her kids got older and had more activities, Mickey decided she wanted to/needed to earn an extra income to keep up with expenses. She started out working seasonally in the apple orchards and tobacco farms of SW Ontario; it was hard, grueling work – and she loved it!
In 1975, the family moved to Edmonton, Alberta, and Mickey got into the workforce on a full-time basis. At first, she worked in the GWG jeans distribution center; we wore a LOT of denim for a few years! Then, she started a career with the Federal Government, first in Customs, followed by a position with Health and Welfare Canada, supporting northern indigenous communities. While there, she became active in the National Health and Welfare union, holding executive positions, and was courted for a role on the National executive. She was awarded an honorary lifetime membership in the union in 1992 after 14 years of service.
Upon moving to Edmonton in 1975, Mickey and George joined Dayspring Presbyterian church where she eventually served as an elder, a session member, and as Chairman of the Board of Managers. Mickey loved camping, mainly because it involved campfires and wiener roasts ... and s'mores! She was heavily involved in the Presbyterian Church's Camp Kannawin at Sylvan Lake for many decades. She was very  dedicated to her church activities, be it the local congregation or at provincial and national levels. She served on numerous Presbytery and Synod committees and was elected the first lay moderator of the Synod of Alberta.
When George retired in 1989, they bought a house in Beaumont and soon became part of the fabric of that community. Mickey firmly believed in service – be it to church, family, union, or community – and she launched wholeheartedly into serving her new home base. She was a three-term town councilor, served on many committees such as Waste Management and Crime Stoppers, and played major, leading roles in the planning and development of both the Beaumont Water Spray Park (with the local babysitting co-op) and the CCBCC (Beaumont Community Centre). Mickey was well known and well loved in all corners of the community!
They sold their single-family house around 2007 and moved into Place Beausejour, a 50+ life lease building that advertised a future assisted living wing. While that need never transpired for them, Mickey lived there until March 2022, just three short months after her youngest child, Sue, passed away after a two-year battle with ovarian cancer. Mickey missed Sue terribly, which, when compounded with her other ongoing health issues, led to a 6-week stay in Devon Hospital. From there, she was placed into Salem Manor Nursing Home in Leduc in May of that same year.
Mickey thrived at Salem, as the regimen of regular meals, regular physio, and regular social and recreational activities were just what the doctor ordered. She was determined to get back on her feet and surprised her kids and her caregivers by short stints using a walker. She made some great friends in her short time there and ran successfully for the position of vice-chair of the residents' council. She was promoted to chair a short time later and led monthly meetings with her own version of stern compassion. Mickey helped plant and tend a dozen tomato plants in their small courtyard and would ensure a daily trip to the garden during late summer so she could sample her hard work. She loved tomatoes!
2023 was not kind to Mickey; she had extended stays in both the Grey Nuns and Leduc hospitals and never fully recovered. She passed peacefully during the late evening of May 17th.
All her achievements aside, Mickey was just "mom" to her kids, albeit a pretty amazing one. She taught us courage and strength, right and wrong, integrity, compassion and above all, service. She was simply an amazing individual that we were fortunate enough to have in our lives for such a long time.
Mickey was predeceased by her husband of 54 years, George, and her daughter, Sue. She had five children – Greg (Monica), Bev (Barry), Murray (Colleen), Lynn (Stacey) and Sue (Rod). This led to 12 grandchildren - Evan (Sarah), Adam, Sean (Emily), Andrew (Derek), Chris, Cam (Kasey), Jenna (Seth), Logan, Foster, Courtney, Kate (Blair), and Eric and 6 great-grandchildren – Hazel, William, Mira, Ren, Eli, and Myer, with another expected this summer.
Mickey (Mom, Grandma, Great Grandma) lived a long and full life; she was an inspiration, a source of compassion and support, and a dose of straight talk when needed.  She made an impression on all she met and will be fondly remembered.
A Celebration of Life will be held at 2 p.m. on June 12, 2023 at Dayspring Presbyterian Church (11445 40 Ave NW, Edmonton, AB).
The memorial service will be broadcast via Zoom and may be accessed through Dayspring's webpage at https://dayspringchurch.ca/
God speed, faithful servant.  We'll miss you.