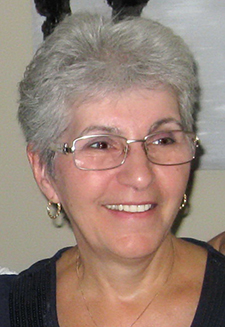 Monique Marcotte (Nee: Provencher)
March 29, 1952
-
November 16, 2021
With deep sorrow and much love, we mourn the passing of Monique Marcotte of Edmonton on November 16, 2021. Monique passed away at home peacefully in her sleep after a short battle with Pulmonary Veno Occlusive Disease
She will be dearly missed by her husband of 50 years, Art Marcotte; daughter, Jo-Anne (Clint Knapczyk); grandson, Tyson; sisters, Lise (André) Goulet, Thérèse Godin, Jeannine Provencher (André), Francine Provencher (Gilles); brother, Claude (Deborah) Provencher; and numerous nieces, nephews and friends.
She is predeceased by her parents, Omer Provencher and Georgette Ménard; brothers, Lucien, Gérard, Philippe; sisters, Jeanne and Marcelle.
Monique was born and raised in Taschereau, Quebec. In the early seventies, she moved to Williams Lake, BC, with her soon to be husband. Monique and Art married shortly after and started a small family. Monique learned to speak and write English fluently and had a long career as a bank teller. Over the years, Art and Monique moved several times with numerous years in Prince George, BC and Edmonton, AB. Monique cherished her family and made many cross-Canada road trip vacations from BC to Quebec to reunite with them.
Monique had many talents and skills. From sewing, knitting, home décor and home repair to cutting her family's hair and even her own hair. She was bright, creative and seemed to learn anything with ease. Monique loved to read, do puzzles and make all types of crafts. She was an avid dog lover and had many dogs over the years. She hated the cold and loved warm summer days reading in the sun. She will always be remembered as a beautiful, loving, caring wife, mother, grandma, sister, aunt and friend.
Our family would like to thank Dr. Samuel Fanous at Pilgrims Hospice and the wonderful home care palliative nursing team. We are so grateful for the compassionate care you showed Monique in her final months at home.
In lieu of flowers, memorial donations may be made to the Pulmonary Hypertension Association of Canada  www.phacanada.ca Suite 917-750 West Broadway Vancouver, BC V5Z 1H8
"There are some who bring a light so great to the world that even after they have gone, the light remains."
Avec une profonde tristesse et beaucoup d'amour, nous pleurons le décès de Monique Marcotte d'Edmonton le 16 novembre 2021. Monique est décédée paisiblement à la maison dans son sommeil après une courte bataille contre la maladie Pulmonary Veno Occlusive Disease
Elle manquera beaucoup à son mari depuis 50 ans, Art Marcotte; fille, Jo-Anne (Clint Knapczyk); petit-fils, Tyson; sœurs, Lise (André) Goulet, Thérèse Godin, Jeannine Provencher (André), Francine Provencher (Gilles); frère, Claude (Deborah) Provencher; et de nombreux neveux, nièces et amis.
Elle est prédécédée par ses parents, Omer Provencher et Georgette Ménard; frères, Lucien, Gérard, Philippe ; sœurs, Jeanne et Marcelle.
Monique est née et a grandi à Taschereau, Québec. Au début des années 70, elle a déménagé à Williams Lake, en Colombie-Britannique, avec son futur mari. Monique et Arthur se sont mariés peu de temps après et ont fondé une petite famille. Monique a appris à parler et à écrire couramment l'anglais et a eu une longue carrière en tant que caissier de banque. Au fil des ans, Arthur et Monique ont déménagé plusieurs fois avec de nombreuses années à Prince George et à Edmonton. Monique chérissait sa famille et a fait de nombreux voyages en voiture à travers le Canada de la Colombie-Britannique au Québec pour les retrouver.
Monique avait de nombreux talents et compétences. De la couture, du tricot, de la décoration intérieure et des réparations à la maison à la coupe des cheveux de sa famille et même de ses cheveux. Elle était brillante, créative et semblait apprendre n'importe quoi avec facilité. Monique aimait lire, faire des puzzles et faire toutes sortes de bricolages. Elle était une passionnée des chiens et a eu de nombreux chiens au fil des ans. Elle détestait le froid et aimait les chaudes journées d'été à lire au soleil. On se souviendra toujours d'elle comme d'une épouse, d'une mère, d'une grand-mère, d'une sœur, d'une tante et d'une amie belle, aimante et attentionnée.
Notre famille tient à remercier le Dr Samuel Fanous de Pilgrims Hospice et la merveilleuse équipe de soins palliatifs à domicile. Nous sommes très reconnaissants des soins compatissants que vous avez manifestés à Monique au cours de ses derniers mois à la maison.
Au lieu de fleurs, des dons commémoratifs peuvent être faits à l'Association d'hypertension pulmonaire du Canada www.phacanada.ca Suite 917-750 West Broadway Vancouver, BC V5Z 1H8
"Il y en a qui apportent une lumière si grande au monde que même après leur départ, la lumière reste."