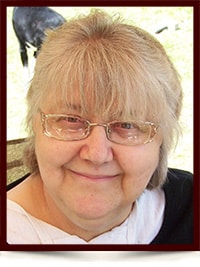 Nancy Ann Florence Tschetter
Nancy Ann Florence Tschetter, 67, of Edmonton, Alberta, passed away on Tuesday, November 14, 2017.
Born August 26, 1950 , she was the daughter of the late Robert Mulligan and Shirley Mulligan.
She is survived by her husband of 29 years, Peter Tschetter; three sons, Che Francis, Jesse Francis and Christopher Prymak and his wife Michelle.  Sister Sherry Mulligan, brother Patrick Mulligan and deceased brother Micheal Mulligan.  Two grandchildren, Jacob and Evelyn.
Memorial service will be conducted at 2:00 Wednesday, November 22, 2017 at Trinity Funeral Home, 10530-116st NW