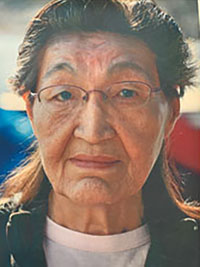 Noreen Bos
It is with heavy hearts that the family o Noreen Bos announce her passing on September 28, 2020.
Noreen is survived by her siblings: Martha Robbins, Evelyn Ochitwa, Janet Fluet, Billy Chille, Orest Chille and Lawrence Chille; four children: Rhonda Hunter, Belinda Chille, Kevin Chille, and Richard Bos. She also leaves her grandchildren: James Hunter, Justin Hunter, Jennifer Hunter, Montana Burkin, Shawna Chille, Ashley Anderson-Thompson, Nathan Frances, Shania Chille, Trey Chille and Alexis Roy as well as great-grandchildren: Spirit Miller, Drake Hunter, Tara Hunter-Wilson, Sophia Thompson.
A Celebration of Life for Noreen and her sister Alvina will be in May 2021.