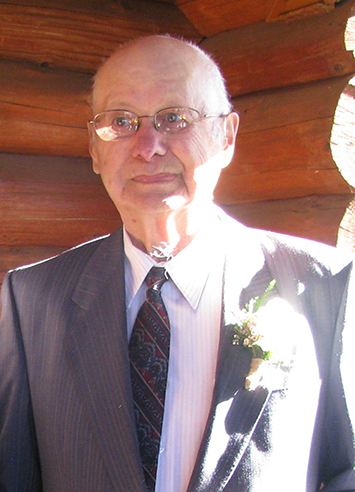 Orval Francis Marit
April 16, 1929
-
November 12, 2022
It is with deep sadness and sorrow but immeasurable love in our hearts that we say farewell to Orval Francis Marit who passed on November 12, 2022.
This amazing man was born on April 16, 1929, to Omer and Mary Marit in Fife Lake, Saskatchewan. Orval and his 3 brothers Marvin, Lorne & Gary, and sister Joyce Sweetnam were raised during the depression and learned the meaning of hard work and going without the things that we take for granted today.
Orval married Zorella Gagne on November 15, 1950. They settled and raised 3 children Gordon, Bryan & Debra on their farm just outside of Fife Lake, Saskatchewan.
Orval will be fondly remembered for his passion and determination for farming in raising livestock and working the land to ensure that the crops would be abundant to carry his family through the year(s).
His love for the community and participation in curling, hockey and coaching baseball was one that everyone respected and appreciated.  Most of all his great love for his family was immeasurable.
Orval and Zorella's door were always open to extended family and friends and with extra seats available at the kitchen table for a coffee, cake, or a hearty meal.
 He will be dearly missed by all:  Always the husband, father, grandfather, great-grandfather, brother and uncle
Orval will  forever hold a special place in the hearts of; his children, Gordon (Barbara) Marit, Bryan (Carolyn) Marit, and Debra Shewchuk; grandchildren, Dayton (Dana) Marit, Brandi (Teicko) Huber, Scott Marit, Erin Shewchuk (Kevin Harter), and Kelsey (Jason) Gignac; great grandchildren, Kennedy and Kyle Marit, Jack and Elle Gignac; and 7 step great grandchildren, Sophia, Olivia, Fiona, TJ and Ezra Huber, and Tyler and Brody Harter.
The private family memorial service will be held on Tuesday November 22, 2022, at 10:00 am at Trinity Funeral Home 10530 – 116 Ave, Edmonton, AB.
Those wishing to view the service via live-stream may do so by clicking the following link: https://www.rispektmedia.com/orval-marit-nov-22-10am
In lieu of flowers, donations may be made to the Canadian Diabetes Association of Saskatchewan and/or Alberta.
We would like to thank all our family for their support and to also thank the staff at the McConachie Gardens in Edmonton, AB for their kindness and compassionate care during this difficult time.