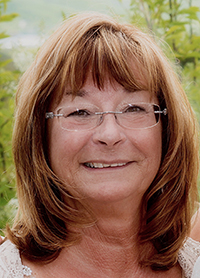 Patricia Donna Payne
It is with saddened hearts that the family of Patricia Payne, of Edmonton, announce her passing on September 29, 2020 at the age of 64.
Predeceased by her parents William and Anna Zadick, Patricia is survived by her husband Bryan, daughters Natalie Boyes of Cochrane, AB and Kimberley Payne(David Hughes) of London, England, sister Margie Abrams of Surrey, BC as well as her nephews Tyler and Troy.
Patricia was an incredible woman, the hardest working person we've ever known. She was passionate about her career working at CN where she served an impressive 46 years. Patricia was well known for going above and beyond in everything she did and achieved. She was a wonderful mother raising her girls, taking them on fantastic holidays and putting them through University. She was also regularly winning at crib, showing off her spectacular culinary skills at dinner parties and had become a very talented orchid grower. Patricia was also exceptionally generous, intelligent, wise and protective of everyone she loved be it family, friends or colleagues. We will miss her powerful presence in our lives forever.
We dearly wish she could have been with us longer, but we are so grateful for the time we had with Patricia and consider ourselves very lucky to have made so many beautiful memories with her.
In lieu of flowers, donations may be made directly to the Pancreatic Cancer Canada Foundation or to the charity of one's choice, in Patricia's memory.
"Those we love can never be more than a thought apart, for, as long as there is a memory, they'll always live on in our heart."