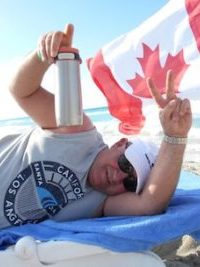 Patrick Burke
It is with great sadness and heavy hearts we regretfully announce the passing of Patrick Burke on Wednesday April 24, 2019 in Edmonton at the age of 58.
Pat will be forever remembered as an extremely kind and caring man with a wonderful sense of humour and an infectious smile.
He enjoyed fine food, good tequila, cooking, fishing, traveling and most importantly time with his family and friends.
Pat was born in France on September 22, 1960 to proud parents Andrew and Margaret Burke, both predeceased in Oct 2003 and March 2006 respectively.
Pats journey through life was at times, not an easy one. He overcame so many adversities throughout his all too short 58 years, yet still managed to come out on top.
A very special thank you to his best friend Lorri Jones and friend and roommate Tina Horton for all their help, love and support over the last few very difficult days.
Left to mourn Pats passing are his sisters Laurie and Angie, brother Mike, nieces Korrie and Jessica, nephews Shawn and Steven. Numerous Aunts, Uncles and Cousins and countless good friends.
Celebration of Pats Life
1:00PM Saturday May 25, 2019
Mark McGregors Acreage
172 Bowdale Crescent NW Calgary
In lieu of flowers if friends so wish, please make a donation to an animal shelter of your choice.