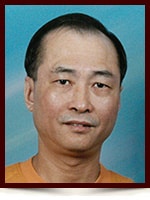 Perry Kui Choi Wu
May 16, 1949 - December 28, 2014
Born in Hoy Ping County, Guangdong Province, China, Perry moved to Hong Kong as a boy where he finished his elementary school education before entering the garments industry workforce.
He emigrated to Canada in 1977 and settled in Edmonton, Alberta, where he laboured at various odd jobs before singling out his forte as a cook. However, he especially liked working in rural Alberta towns.
Returning to China in 1994, he met Miss Yan Ping Zhao whom he sponsored to Canada as his fiancee. They were married on October 26, 1996, in Burnaby, BC. The couple then settled in Edmonton where they resided until his passing.
In addition to his devoted wife, he leaves to mourn his daughters Leanne Lai Yeung Wu and Molly Lai Ying Wu.
Predeceased by his mother, Madam Szeto Oi-To, in October of 2014, he is survived by two brothers and two step-brothers who join with their families and friends in celebrating Perry's 65 years on earth. We shall meet again. Until then, rest in peace.
Funeral Service
10:00AM Tuesday January 6, 2014
Trinity Funeral Chapel
12134-66 Street Edmonton, AB