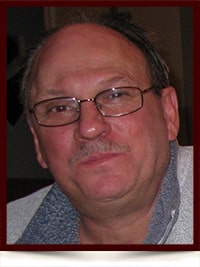 Peter James Minaker
With sadness, we have lost our amazing brother, cousin, friend, uncle Peter James Minaker, after a fierce but short battle with cancer. Peter, born January 5, 1960, died January 27, shortly after his 57 birthday.
Peter worked for Telus as a telephone equipment installer for 35 years and had recently retired. With Telus he travelled to England and to the southern United States as part of an international switch installation team. He was looking forward to a new chapter in his life.
At home he enjoyed NASCAR races and over the years he collected older vehicles and parts with the idea of restoring them after he retired. He also enjoyed skiing and travelling to visit friends and family.
He was a very loving son/brother to his parents and family, and a loyal friend to the many people he met as he travelled through life. He was a truly caring, carefree and gentle soul who will be missed by many.
Peter is pre-deceased by his parents Douglas and Doris Minaker of Milford, Ont.
He is survived by his siblings Garry (Helen) of Stony Plain, Bill (Jean) of Picton Ont., Lynne Joakim (Andy) of Kitchener Ont., Al (Lyn) of Edmonton, and Dean of Bruderheim, as well as numerous nieces and nephews, cousins and friends.
Sincere thanks to Norwood Palliative Hospice and the special people there who made his last days as comfortable as possible, especially his friend Kate Bentley.
Celebration of Life
Thursday Feb 2 2017, 2:00PM
Trinity Funeral Home
10530-116 St. Edmonton AB.
In lieu of flowers, contributions may be made to the charity of your choice or to Capital Care Norwood Palliative. Envelopes will be available at Trinity Funeral Home. Donations can also be made online at www.capitalcarefoundation.net with reference to Norwood Palliative Hospice or to the Norwood Palliative - TLC - Legacies Living On to renovate rooms.