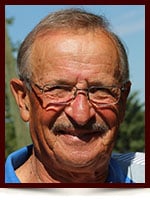 Peter Paul Krawchuk
Krawchuk, Paul Peter of Spring Lake, Alberta passed away on the 13th of August, 2015 at age 75 at the Grey Nuns Hospital from complications of kidney cancer.
Paul was born at home in Elfros, Saskatchewan on 29 January 1940 to Harry & Josie Krawchuk and was the fourth of 6 children.
Paul was raised in Saskatchewan until the age of 12, when the family moved to Edmonton in 1952. He went to Eastglen high school and started working for CN Telecommunications in 1956 until 1961. He started with EdTel in 1962 while he took his telecommunications degree at NAIT. Within a few years he became a foreman at EdTel. He retired in 1996. He met the love of his life Vicki Jones in early 1970's. They married in 1978 and spent 29 wonderful years together. Since his retirement, for the last 19 years, Paul and Vicki travelled south for the winter to golf and play poker, and spent the summers with family and friends back in Alberta, which also included golfing and working part time at Spring Lake RV Resort.
Paul was a positive person and had an amazing outlook on life, right up until the end. The nursing staff at Unit 43 told him that he lifted everyone's spirits with his attitude and strong faith.
He is survived by his eldest sister Mary Deville of Wetaskiwin, Susan Tkachyk (John) of Edmonton, and brother Andy (Susan) of England. He is also survived by numerous nieces, nephews, cousins. Paul was predeceased by his loving wife Vicki on 18 July 2008, his older brother Walter in 1939; his younger brother Harry in 1980; his father Harry Sr. in 1985, and his mother Josephine (Josie) in 2003.
Funeral Service
Wednesday 19th August at 11:00AM
East Parkland Bible Church
4704 – 79 Avenue, Stony Plain, Alberta
Reverend Art Quist officiating
Public Visitation
1 hour prior to the service for those that wish to pay their respects.
Cremation will follow, with a private family internment at a later date at Magnolia Cemetery where he will be laid to rest with his loving wife Vicki.
Paul wishes to thank the regional palliative staff and all of the wonderful staff on unit 43 at the Grey Nuns hospital for the excellent care he received.