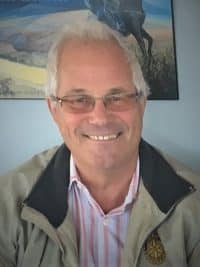 Peter Pieter Denooij
Peter Pieter Denooij (b.April 15th 1946) passed away at the Royal Alexandra Hospital in Edmonton on January 9th 2020.
He is predeceased by his parents Engel (d.1964) and Alida Anna (d.2010) and his first wife Anneke Van Heel (d.1995). He is survived by his sister Marrieke (Jan) and his brother Frans (Hendrien), as well as his sons Roeland (Janet) and Johan (Emily), grandchildren Anneke, Ewan and Ella, and his dear partner Ileana Maria Moreno.
Peter always approached life with such love and enthusiasm. He made friends wherever he went, and loved volunteering, playing golf, and drinking fine scotch. As a trained veterinarian, Peter's love for animals was always apparent, and his work with the Rotary Club of Edmonton supported a great many people.
Peter will be missed dearly by those who knew and loved him.
Celebration of Life
10:00AM Tuesday January 14, 2020
Trinity Funeral Home
10530-116 Street Edmonton, AB
Memorial Donations
Rotary Foundation (Canada) of Rotary International would be much appreciated