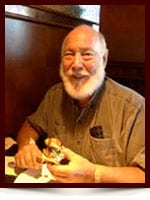 November 25, 1939 - December 29, 2013
It's with heavy hearts and deepest sorrow that we announce the passing of our treasured Husband, Dad, Grandpa, Brother and Uncle, Ralph Barton Lord Webster on December 29, 2013.
Bart has lived, laughed and loved with his Wife Karen throughout their marriage of 50 years. Blessed with his infinite wonder of the world are his Children, Stewart (Cara) Webster, Kelly (Don) Marshall, Joe (Jean) Webster, Shirley (Louis) Brinkman and David (Kari) Webster. His legacy of creativity and imagination will continue on through his nine Grandchildren.
Celebration of his Life
11:00AM February 1, 2014
Argyll Community Hall 6750 - 88 Street