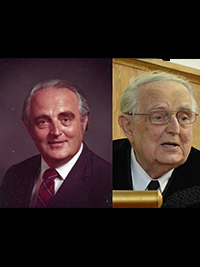 Rev. Dr. Joseph Pungur
December 18, 1931
-
May 9, 2021
It is with heavy hearts we announce the passing of our dear father/grandfather Rev. Dr. Joseph Pungur.
Joe was a Reformed and Presbyterian pastor, professor, writer, composer, organist, renowned theologian. He was born in Dunabogdány, Hungary, was ordained into the Reformed Church and was a cantor from 1962. He wrote his doctoral dissertation at the New College in Edinburgh and received his doctorate in theology in 1976 in Budapest. He also served with the Ecumenical Council and the Synod Office. With his family, he moved to Kenya to serve as a professor at St. Paul's United Theological College (1976-1982). He then served as the pastor of the Hungarian Reformed Churches in Edmonton (1983-1992, 2005-2015) and Calgary (1993-2001). He was adjunct professor of Religious studies at the University of Alberta (1984-1993). In the 1970s he was a member of the World Council of Churches, in 2012 he was the vice-president of the National Association of Hungarians in Canada, and in 2014 he was the editor-in-chief of the Hungarian Reporter (Canada). Beside his books, he published over 200 meditations and essays. He was the editor of the Hungarian World Encyclopedia. He composed 10 organ works and performed organ concerts in Europe, Kenya and North America. He was Chaplain to the Order of Saint John of Jerusalem Knights Hospitaller. The President of the Republic of Hungary awarded him the Small Cross of the Order of Merit of the Republic in 1999 and the Officer's Cross in 2017 for his service to Hungarians.
Cherishing memories of his love of God, family and community and his kindness, caring and humour, are his family, congregation, and many friends around the world. He leaves behind wife Elisabeth (Gigi) Soros, daughters Judit (Arnold), Edit, Erzsi (John), Maya (Stephen) and Lydia, and 10 grandchildren: Danielle, Meryam, Christine, Maria, Kane, Monette, Nico, Andrea, Analiese and Eric.
A special thank you to the staff and doctors at Sturgeon Community Hospital for their compassion and kindness. Due to Covid 19 restrictions a private service is being held, with a memorial service at a future date.
In his memory, donations can be made to the Calvin Hungarian Presbyterian Church in Edmonton or Calgary or your local Reformed or Presbyterian church, thank you.