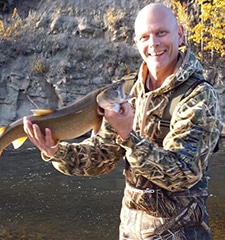 Richard Patrick Skelly
It is with immense sadness that the family of Richard Patrick Skelly announces his passing in Edmonton on Thursday February 21, 2019 at the age of 52. In his final moments, he was surrounded by his 'Circle of Love'.  His circle included both those present and all those sending their love and healing thoughts from a distance.
Richard faced his journey with cancer in the same way that he lived his life; with consistent kindness, never-ending courage and absolute gratitude. Richard was born on December 29, 1966 in Vancouver, B.C. to Rhoda and Richard Skelly. He lived the majority of his life in Edmonton where he grew to love the banks of the North Saskatchewan River.
Richard will be forever loved and missed by his beloved children Shayna Ritter (Matt Cissik) and Myles Skelly (Lisa Johnson) He is survived by his partner, friend and "Lover" Kathy Norell. Also mourning their loss are Kathy's children; Mike Norell (Shaina Dreger-Bullis) and Rebecca Norell (John Moisan). Richard was a much loved Papa to Oliver and Theodore.
Loving brother to Maureen Winter (Greg), Jayme Blenkarn (Michele Siderson), Craig Skelly (Angie), Kathy Stone (Steve) and Judy Rokovetsky (Francisco Schipperhein); step-sisters Bev Kraweic Lesberg (George), Karen Kraweic and Shelley Krawiec.
Mourning their "Uncle Booty" are Carly Winter (Adam Clifford), Rob Winter (Julia Palczewska), Eric Blenkarn, Amanda Blenkarn, Alexis Skelly, Noah Skelly, Bobby Stone and Michael Stone. Richard was Great Uncle to Jonas, Finn and Leo.
Richard will also be missed by the mother of his children, Lisa Skelly, his cousins Wayne Osbaldeston (Kathy), Dwight Osbaldeston(Laurie), Sandy Downey (Mike)and Janet Bonde and their families.
Richard will be reunited with his mother Rhoda Kraweic, his father Richard Skelly, his step-father Walter Kraweic, Kathy's mom Beatrice Segouin, his grandparents Clarence and Elizabeth Hodgson, his cherished aunts and uncles; Alf Hodgson, Hazel and Lloyd Osbaldeston, Joyce Pratt, Al Pratt, Jean and Pete Masson, Rhona and Bill Traviss; as well as Lisa's mother Joyce Belcourt, his cousin Blaine Osbaldeston, and his nephew Sean Kraweic.
Richard leaves his longtime 'Desco Family' where he has worked for the last thirty years.  Richard took great pride in his work and led by example. He believed that 'any job worth doing was worth doing right'. His excellence was evident and he proudly shared examples of this in the U of A Hospital garden. He will be greatly missed by his co-workers.
Richard was an avid pool player and played many years on various Triple E teams during which he formed many lasting friendships and collected multiple trophies. Also grieving Richard's passing will be "The Reunion of Brothers," a group of Richard's high-school friends that for the last ten years have gathered annually to share stories and relive their youth.
Richard loved and supported his family and friends unconditionally. His greatest pride and joy in life was his children. Richard felt blessed to have many, many close friends. He attended Forest Heights Elementary, John Barnett Elementary and Londonderry Junior High. Richard graduated from M.E. LaZerte High School in 1985.
He will be remembered fondly for his recall of music lyrics, his incredible joy and excitement for Halloween celebrations, his passion to restore his 1968 Chevy van, his genuine hugs, his honesty, his smile, his sense of humor and his quick wit. Richard loved nature, gardening and an all-night fire-pit. Richard expressed that it was his "Family, Friends and Fishing" that got him through this past year. Kathy wishes to acknowledge the ongoing support of her family and friends during Richard's journey.
Richard's family will be forever grateful for the caring hearts and gentle hands of the doctors, nurses and staff at the University of Alberta Hospital and the Alberta Cross Cancer Institute. In lieu of flowers, memorial donations to the Sacred Heart Church Christmas Fund are gratefully accepted.
Richard inspired others with his deep, deep love for searching and finishing his treasured rocks and petrified wood. He would want to be remembered most whenever you walk along a river. Pick up a stone and know that he always walks with you.
Richard's Celebration of Life will be held on Saturday March 2 at 1:00 pm at North Pointe Community Church. 14025-167 Ave. NW Edmonton, Alberta in the north auditorium. There will be a casual gathering of family and friends after the service at Casselwood Pub 14620 – 50st.