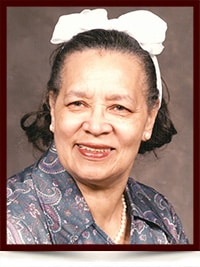 Rita Marion Williams
It is with great sadness that we have to say goodbye to our beloved mother Rita Marion Williams on December 17, 2017 at the age of 97.
Rita was predeceased by her parents Tent Steele and Jemina Baptist, husband of 63 years Lio Williams, 4 brothers, 2 sisters, 1 daughter and 1 grandson.
She is survived by her children Greta, Gregory, Yvonne (Berth), Yvette (Ivan) and Winston, grandchildren Hazelanne, Gale, Denise (Andrew), Helen (Addie), Junior, Marcus, Mathew,  Monty and Blair, Chantelle and several great and great-great grandchildren.
A Burial Mass for Rita will be held on Thursday December 28, 2017 at 10:30 am at St. Albert Catholic Church, 7 St. Vital Avenue, St. Albert, AB.
In lieu of flowers, donations may be made to the Youville Home, 9A St. Vital Avenue, St. Albert, AB in Rita's name.