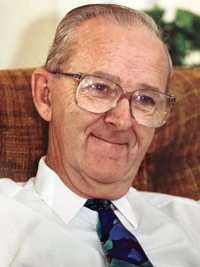 Robert (Bob) Dick
It is with heavy hearts we announce the passing of our father Robert (Bob) Dick in the early hours of June 27, 2020. He was 90 years young.
He is survived by his devoted wife Jeanne who cherished him, his son Gary, daughter Bev and the long-awaited, much-adored grandchildren, Jordan and Justin (Gary). He is predeceased by his eldest daughter Leslie Ann and his brother Neil.
Growing up, Dad lived with his parents and brother in the Alberta Avenue area. His beloved brother Neil was Dad's favourite partner in practical jokes. They had a lot of fun together, had many friends and shared interests. Dad was a self-proclaimed "rink-rat" who loved to skate and be active. He worked as an Usher at The Avenue Theatre, a Paper Boy with The Journal and he rescued horses then trained and sold them.
He began a career with AGT that would span (35) years. He started in telephone equipment installation working throughout Alberta, and in his later years worked as a 3rd level Supervisor over the Engineering Group for all of Alberta.
A legendary Mr. Fix-It and all around handyman, Dad liked to be busy and help out wherever he could. He was a pure prairie boy who loved the land, horses, dogs and a hard day's work. Dad enjoyed a Rye at 5:00 and a good long visit with one or more of many, many friends or family.
He was a dedicated family man, and he and Mom were a great team over the years. In retirement they were happy to host countless celebrations at the park-like acreage they created together. "Little Acres" as it came to be known, was Dad's favourite place to be. He will be missed.
Our Family would like to express our profound gratitude to the many talented caregivers who greatly contributed to Dad's overall quality of life in these past few years. Of special note are: Dr Laurie Brooks, Dr Kagan, Frankie Ma, Stephanie Tonkin, Katie Borek, Mary Keddie, Kathy Piper, Sammie Babalola, Wendy Hoover. There are many others and we are greatly appreciative to all.
A Celebration of Dad's Life will be planned for a later date. Released from pain, dear Bobby, rest your soul. Be at peace.
Should you wish to send an expression of sympathy donations can be made in Dad's memory to Hope Mission - Edmonton / www.hopemission.com