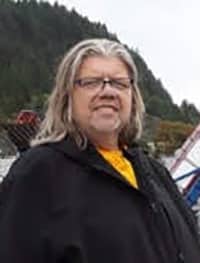 Robert (Bob) James Case
Robert (Bob) James Case, born in Portage la Prairie, Manitoba in 1963, passed away on Thursday August 13, 2020 at the University Hospital in Edmonton, Alberta.  He is survived by his two children – Brandon Wallace Case (27) and Thalaissa Case (30) – as well as his sisters Wanda, Debbie and Jody Case and his girlfriend Madonna Drover.  He is predeceased by his parents Albert & Neta Case, his siblings Patricia Case and Leonard Case, his best friend Butch Mckechnie, and his ex-wife Vanessa-Lynn Mitchell.
Robert spent the majority of his childhood living in the Winnipeg, Manitoba area.  Like his father and brother before him, Robert began his life as a truck driver and developed a talent behind the wheel that could rival no other.  He spent his younger years travelling across Canada until he settled in Edmonton, Alberta which is where he met his soon to be wife and raised their two children.
Robert was a man of simple tastes.  He liked motorcycles, rock n' roll and karaoke with a good sound set up.  He was a life long fan of the Winnipeg Blue Bombers and got to witness them ending their 20+ year Grey Cup draught before he passed.  He loved the WWE and made sure to never miss a single big show.  He loved his family. He loved the people he cared about, and he was never late to the punchline with a good joke.  He was a great father and an even better friend.
For those wishing to say goodbye, a service will be held in Bob's honor at Kitchener Park (103 Avenue & 114 Street, Edmonton, AB) in the SE Corner at 7pm Sunday August 23, 2020.
Rest In Peace
Robert James Case
1963-2020