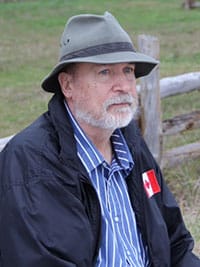 Robert Renaud
July 13, 1943 in Montreal, Quebec - February 16, 2019 Edmonton, Alberta
Robert Renaud, beloved husband of his wife of 54 years, Lisette (née Bissonnette); daughters Marie (Robert), Christine (David), Susan, son Michel (Lyn); grandchildren, Aaron, Madeleine; Mathew, Gregory, Karen, Elizabeth; Alexandra, Elizabeth, Rose Amélie; his siblings, Carol, Larry, Gary, Stephan, Sharon; the rest of his extended family and friends whom he cherished. He passed away peacefully surrounded by a great many of his loved ones.
Robert spent many years as a locksmith, specializing in high security locks, master keying, consulting, teaching and management. He was also was a skilled craftsman who could create beautiful pieces of craftwork in wood, metal, and other materials. He loved tools, and was often called the "tool man".
Robert was a kind, caring, and gentle man who loved and cared for animals, especially the dogs and cats he had as pets over the years. He loved to laugh, and often had a sweet, mischievous twinkle in his eye.
Robert cared deeply about people and was always finding ways to help others, being it through lending his knowledge, tools, or a helping hand. Robert volunteered over the years with many organizations, including the Salvation Army working with homeless people.
Robert was predeceased by his Parents, Victor Renaud, Mae (née Paradis); and his sister Beverly.
Memorial Service
2:00PM Saturday, February 23, 2019
Rio Terrace Community Moravian Church
15108 76 Ave. Edmonton, AB
Memorial contributions may be made to the Edmonton Humane Society, or the Cross Cancer Institute.