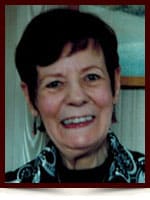 ROBINSON, Bella Rose-Alma Marie (nee Gour)
March 12, 1937         -       May 15, 2015
St. Charles, Ontario  -   Edmonton, Alberta
It is with sorrow we announce the passing of our dear sister, aunt, mother and friend Bella Robinson, on May 15, 2015 at the age of 78.
Bella will be lovingly remembered by her son Vernon of Thunder Bay; three sisters, Rachel Servini of Edmonton, Amy Vaillancourt of Oshawa and Laverne Kelly of Sudbury, Ontario; one brother, Felix Gour of Toronto, Ontario as well as many nieces and nephews and other extended family members.
Bella was born in St. Charles, Ontario where she was schooled in a convent along with her two sisters Rachel and Shirley. As a young woman of 18, she moved to Toronto in 1955 and started her career with the CIBC bank as a teller and remained there until about 1985.   In 1955, she also met the love of her life, Tony Robinson, who was from Jamaica, and they married and had two sons, Vernon and Terrance. Bella was a very loving mother and her happiest memories were of her life with her husband and her two boys. She took her role as a homemaker very serious and kept a beautiful clean home for her family and was very involved with her children. Bella was an avid reader and an accomplished poet who had a few of her poems published in W.P. Anthology and received a Golden Poet Award in 1986.
In 1985 when her beloved son Terry passed away at the tender age of 25, Bella was devastated and her life forever changed because of this traumatic event. Her sister Rachel went to Delhi, Ontario where Bella was living at the time to relocate her to Edmonton to be close to her family in her time of grief.
Bella was predeceased by her mother Fernande Dubois and father Albert Gour, as well as her ex-husband Tony Robinson of Toronto; her son Terry Robinson of Montreal; brother Bob Gour of Hamilton, Ontario; and sister Shirley Edwards (Caby) of Timmins, Ont.
A celebration of Bella's life will be shared with family at the home of her neice on June 20, 2015.
A Poem by Bella
Welcome Spring
When old man Winter gives his last chilly sigh
With mixed emotions you say god-bye
Tho' the old friend is dear, the new has such charms
You welcome young Spring with wide-open arms!
You know Spring is here, in many ways……
The inviting sunshine, the lengthening of days,
With snow melting fast in the warming sun
Latent life has now begun.
Buds are swelling on new-living trees
Lilac scent is carried on a fresh vernal breeze
You hear a robin's song, a gurgling brook
Earth has awakened, listen….. take a look!
In the dense woods a hint of green shows
The air is heady where wildlife grows
'Tis calm, 'tis peace in all perfection
Yet Nature fairly shouts in all directions!
Radiant butterflies enjoy new-found freedom
Warm sunbeams are waking sleepy blossoms
Dandelions are scattered, bluebells ring!
Young Spring, your wand has not missed a thing!
Beautiful Spring, 'tis not without reason
You are Queen, to me, of all four seasons
You spread your magic across the land
With your gentle touch…. And His helping hand!
April/May 1963
Contact Information:  [wpseo_address oneline="1" show_state="0" show_country="0" show_phone="0" show_phone_2="0" show_fax="0" show_email="0"]