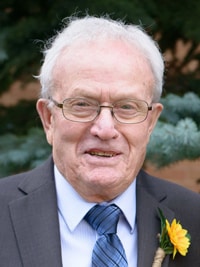 Rodrigue (Rod) Lalonde
Rodrigue (Rod) Lalonde passed away peacefully October 12, 2018 at the age of 91.
Rodrigue is survived by his daughters: Lyse Hayes, Huguette (Doug) Beckett, Chrystine (Robert Mantey) Lalonde as well as 4 grandchildren and 3 great grandchildren.
Rodrigue was predeceased by his loving wife of 58 years in 2014, Marguerite.
Prayer Service
Thursday October 18, 2018 7:00PM
Saint Vital Parish
4905 50 St, Beaumont, AB
Mass of Christian Burial
Friday October 19, 2018 11:00AM
Saint Vital Parish
4905 50 St, Beaumont, AB