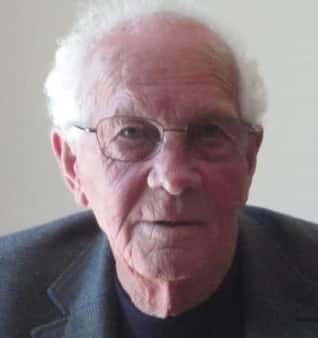 Roger Leroy Vye
Roger Leroy Vye of Stony Plain, Alberta passed away peacefully on March 16, 2019 after a short battle with cancer. He will be missed by his sisters Bonnie (Marc) and Betty (Terry) of the Sarnia, Ontario area. Also his children Bonnie Sue (Peter), Jay (Lorissa), Ralph, and Duane (Sandra) and grandchildren Miranda, Jacob, Jaylene, Clayton, Phalen, Ayden and Oliver, and great-grandchildren Madison, Cash and Nikola. Roger is predeceased by his parents Ralph and Pearl Vye.
Roger was born in Chatham, Ontario on March 11, 1936. He grew up in the Sombra, Ontario area and lived there until he moved to Alberta in 1980. While in Ontario, he worked on the freighter ships on the Great Lakes, and he maintained an interest and love of these ships all his life. He lived and worked on a farm in the Sombra area and enjoyed the farm life. After working on the ships, he became a truck driver. He spent most of his trucking career working for Raydan Transport out of Nisku, Alberta, for close to 30 years. He held great pride in his clean and safe driving record and was recognized by Raydan Transport for this. He drove truck through every province in Canada, including a few trips on the ice roads to Inuvik, Northwest Territories.
In his spare time, Roger enjoyed gardening and going to the Spruce Grove Farmer's Market to sell produce with his good friends Ivan and Inez. Roger was an early riser and enjoyed an early morning drive with his beloved dogs Spooky and then Sparky. His usual morning routine was breakfast with "the boys" and then coffee with Donovan and Vicki, then a visit with Kiran, Sandeep, Baldeep and Pammie at Century Convenience and another coffee and lottery tickets. Roger was close with his good friends and neighbours Al and Sylvie, Dwayne and Dolores, and many others. He liked to visit with them while tinkering in his garage fixing small engines, another of his interests.
In his later years, Roger enjoyed several trips to Mexico with his good friend Theresa. He enjoyed the heat and getting away from Alberta winters. He lived at Whispering Waters Manor in Stony Plain and had many friends there. He was always appreciative of their wonderful staff.
Roger was a man of few words, but he was proud of his children and grandchildren and their accomplishments.
The family would like to thank the staff at Westview Health Centre for their kind and compassionate care extended to Roger.