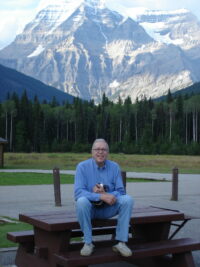 ROGER S. WOODS
August 4, 1940
-
August 25, 2021
"Those we love don't go away, they walk beside
us every day. Unseen, unheard, but always near,
still loved, still missed and forever dear."
It is with deep sorrow and much love that we announce the passing of Roger Woods on Wednesday, August 25, 2021, at the age of 81.
Roger will be dearly missed by his wife Delores of 58 years, his son Dean and his wife Tina, and his two beloved grandsons, Dylan and Alec. He is also celebrated and remembered by his brother Robert Woods, sisters-in-law Lorna Herle, Ruth Gramlich, Joan Gramlich, and Louise Gramlich, as well as many dearly loved nieces, nephews, and their families.
Roger was born in Galahad, Alberta. He received his law degree from the University of Alberta in 1963 and was called to the Bar in 1964. He moved to Hinton with Delores and Dean in 1967. He set up his law practice and has called Hinton home ever since.
Roger was a true gentleman who was loved and respected by all who knew him. His greatest loves were his family, his home, his friends, and the great outdoors. His pack trips and adventures into the back country are legendary in the family. Those who were fortunate to accompany him on these trips experienced firsthand his love of the beautiful wilderness and majestic mountains of the Hinton, Jasper area. On these adventures Roger shared his wisdom of survival, life experiences and his connection to nature. Family and friends will treasure the memories of picnics beside rushing rivers or picturesque lakes, sitting on logs around a campfire, or on his deck with a steaming cup of coffee where he shared something he learned or read just recently.
Roger was a deeply devoted and caring husband, father, grandfather, uncle, brother, and friend. When his grandsons entered the room, his whole face lit up. He created many special memories for his family which included boating, camping, horseback riding, fishing, hunting, and travelling. Hawaii was a special place for Roger and Delores.
Roger cared for his community and the people who called Hinton home. He was passionate about politics and encouraged others to care about their community, their province, and their country. Roger was a leader in his time and wise beyond his years. He was a strong advocate for women's and children's rights and autonomy. He was kind and caring. He always did his best to find solutions that would create a path forward for others, both in his professional career and in his personal life. He was a lifelong learner and an avid reader which allowed Roger to fuel a lively debate or engage others in stimulating conversation. He was also a bit of a trickster. He relished having the last laugh and giving a little ribbing to the young people who were all so important in his life and who all loved him back. Roger gave people his undivided attention, for that reason he was loved so very deeply by those fortunate to know him. He was a good listener, and he always tried his best to not judge others or their circumstances. Roger was a man of truth, integrity, and he stood up for what was right. He will be dearly missed.
The family wishes to extend our special thanks to Dr. Brad Martin, Marilyn Lodder, the staff at the Hinton Health Care Unit, and Home Care for their very kind and compassionate care. We wish to bestow our many thanks to friends and family for your kindness, support, and love. There will be no service at his request. In lieu of flowers, donations can be made to the Hinton Health Care Foundation in Roger's name.