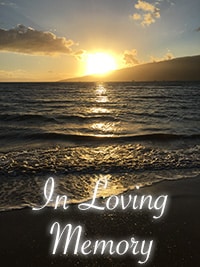 Ron Dallas Mitchell
April 15,1969 – March 12, 2020
In Loving Memory:
It is with great sadness and heavy hearts, we announce the sudden passing of Ron-Dallas Mitchell, on March 12, 2020 in Edmonton Alberta.
Ron was predeceased by several immediate and extended family members (Mitchell, MacMillan, Hagen).
He is survived by one daughter (Alexandra Ford), mother (Cheri Mitchell), and many family members (immediate and extended…sisters, aunts, uncles, and cousins).
Cremation is in the care of Trinity Funeral Home in Edmonton Alberta.
His place of rest will be with his immediate family in Kelowna B.C.
In lieu of flowers, we invite you to consider supporting an organization of your choice for people in crisis and addictions.