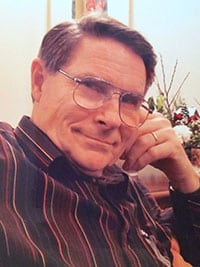 Ronald John Gardner
GARDNER, Ronald John
Our dear father, husband, brother and grandfather passed away quietly on December 19, 2018 at Hardisty Nursing Home in Edmonton with his devoted wife Sandy beside him.
On March 3, 1936 at Kerrobert, Saskatchewan, Ron was the first of five children born to Mabel and Jack Gardner. He and his four sisters grew up and went to school in Kerrobert and then Rimbey, Alberta, and he later attended the Provincial School of Technology and Arts in Calgary where he began a life-long interest in electricity and electronics. In the late 1950s and early 1960s he worked for Alberta Government Telephones where he met Eve Perkins – they were married in 1959. The family moved to Edmonton in 1962 so Ron could continue his education and also be an instructor at NAIT. From 1969 – 2001 he worked at the Radiation Research Lab in the Chemistry Department at the University of Alberta, specializing in electronics and later computer programing and networks. In the 1980s and 1990s he assisted his wife Eve's book indexing business by designing software to aid the process of developing indexes. In retirement he started his own computer network and design business. Eve passed away in 2011. In 2013 he married Sandy Murray and they set up a warm household in Sherwood Park.
Ron will be remembered and admired for his relentless engagement in learning new things, his ceaseless willingness to help others, his ability to fix or repair just about anything, his interest in gardening and growing orchids, and his campaigns to bake the perfect lemon meringue or chocolate pies.
Ron leaves his wife Sandy; his three children Bob (and his wife Marion), Tim (and his partner Odile), and Beth; his four sisters May Skeels (and her husband Gerald), Carole Sundal (and her husband Harlan), Beth-Elaine Gardner (and her husband Karl Surber), and June-Marie Hawtin (and her husband John); and two granddaughters Tatiana and Cassandra Gardner, and he will be greatly missed by all.
Celebration of Life
2:00PM Saturday January 5, 2019
Trinity Funeral Home
10530-116 Street Edmonton, AB
Memorial Donations
Canadian Tire charity Jumpstart