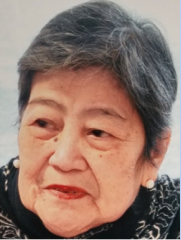 Rosalinda Torres
Rosalinda (Linda) Torres, a loving wife, mother, and grandmother, passed away on July 31, 2019 at the age of 78 years.
Rosalinda was born in Bacoor Cavite, Philippines on June 4th, 1941 to Ninay Gregorio and Ignacio Gregorio. She moved to Edmonton, AB Canada in the early nineties where she spent the next thirty years in company with her husband, daughters, grandchildren, and friends. She enjoyed sewing beautiful clothing, cooking delicious food, sharing her faith in God, traveling to new places, serving her community, and spending time with her friends and family.
Rosalinda is survived by her husband Adriano Torres, and daughters Jane, Rhina, and Lorie as well as her grandchildren Kristina, Kelcie, Kathryn, Josef, Karlo, and Nathan, and many of her wonderful family and friends.
A viewing will be held in memory of Rosalinda on August 5, 2019 from 5:30-8:00 PM at Trinity Funeral Home (10530 116 ST NW, Edmonton, Alberta T5H 3L7).
The funeral service will be held on August 6, 2019 from 10:00-11:30 AM at St. Dominic Savio (14406 62 St NW; Edmonton, Alberta T5a 2e9).