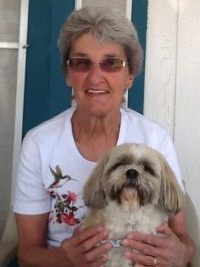 Rose Marie Egland
On the morning of October 4, 2020, Rose Marie Egland passed peacefully at home after a courageous battle with cancer.
Rose was born on July 22, 1940 to Martha and Thomas Oancia on a farm near Assiniboia, Saskatchewan. Rose's early years were spent on the farm with her two sisters, Sylvia and Pearl, and later they moved to Assiniboia and then on to Regina in 1949. Rose loved to play sports, especially basketball, track and field and softball, and she remained a diehard Saskatchewan Roughriders and Edmonton Oilers fan her entire life.
Rose met the love of her life, Robert Egland, while in training at the Regina Grey Nun's School of Nursing where she graduated in 1962. They were married in 1964 and celebrated their first anniversary in Saskatoon eating hamburger and beans while Rose worked at City Hospital and Bob finished university. In 1966, the two of them headed west to Edmonton where they remained in the same house in the Athlone community.
For 31 years, Rose worked at the Glenrose Hospital in a variety of roles including unit manager of the orthopedics and neurological units. She was a key player in the establishment and growth of the neuro program. She is remembered by patients and staff as a dedicated and caring nurse and supervisor.
Rose's pride and joy were her children, Susan (Kelly) and Robert (Rachel) and the joy grew greater when she became the beloved grandma to Caleb, Laurel, Robert, and Thomas. She also had a most special place in her heart for her sister-in-law, Marj and niece Candice. Nothing pleased her more than spending time with her family. Her family will always associate Grandma Rose with playing BINGO, quilting, baking "sparkle" and chocolate chip cookies, hanging out by the campfire at their cabin near Long Lake, playing cards, spending time with "all of her dogs", watching TV while snuggling in her pink blanket, and being heard during basketball and softball games played by her loved ones.
All of Rose's friends in Yuma, where she and Bob spent their winters for the past several years, will attest to Rose's outgoing personality and huge, warm heart. She was everybody's friend and was living proof that to have friends you had to be a friend. She could walk into any room, meet someone, and it was like they knew each other for years. You always felt welcome at the Egland home. And it was not only people who loved Rose, but also many a dog that refused to walk by her deck until they were given the treats that were always in her pockets.
Rose's wish is that there not be a large celebration of her life, but rather a quiet, simple graveside service with her immediate family. This is indicative of what she treasured most: family.
Rose's family extends their heartfelt thanks to Dolar Drugs, Dr. P. Laratta, Dr. K. Young, and AHS Homecare staff.
In lieu of floral tributes, donations may be made to the Cross Cancer Institute.