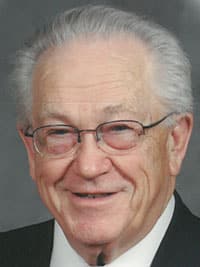 Rudolf (Rudy) Karakochuk
Rudolf (Rudy) Karakochuk peacefully passed away on Friday November 1, 2019  at the age of 85 years in Stony Plain, Alberta.
Rudy is lovingly remembered by his wife Stephania and their four children: Barry (Bev), Glenn (Virginia), Colleen (Parker) and Tanya (Greg) along with their seven grandchildren: Daniel, Nick, Mike, Stephania, Josh, Sophia and Olivia.
Rudy's childhood was spent in Wishart, Saskatchewan. The early days of their marriage of 63 years began in Two Hills, Alberta after which they moved to Vancouver for 41 years. Rudy was a devoted Catholic and a good Ukrainian and a member of the St Mary's Ukrainian Catholic church for all those years. Rudy spent his final 8 years back in Alberta closer to his children and grandchildren with his wife, Stephania.
Visitation
9:30 a.m. Wednesday, November 6, 2019
St. Nicholas Ukrainian Catholic Church in Carvel
AB-770, Parkland County, AB
Mass of Christian Burial  

10:00 a.m. Wednesday, November 6, 2019
St. Nicholas Ukrainian Catholic Church in Carvel
AB-770, Parkland County, AB
Interment
Evergreen Cemetery
16102 Fort Rd NW, Edmonton, AB