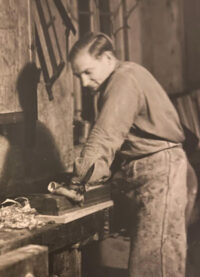 RUEDIGER (Rudi) GUENTHER JONAS
April 13, 1928
-
December 2, 2022
Rudi was born on April 13th, 1928 in Kiel, Germany near the Baltic Sea, one of 8 children.
He apprenticed as a carpenter and became a skilled cabinet maker and finisher.
In 1951 he moved to Edmonton where he eventually started his own business as a set builder for films, theatre and television, the majority of his career being with the CBC. He met Edith at the St. John's Lutheran Church choir and they married in 1953, starting their family in 1955. They first lived in the Ellerslie area, later moving the family to Hazeldean, Ottewell and his final years spent at Shepard's Care in South Edmonton.
After retirement he continued creating detailed wooden art pieces including veneer carving, sandblasted plaques and treasured detailed Christmas ornaments. He volunteered with the food bank and in church leadership. He had a great love for the lakes and mountains of Alberta, and camped with his family in many National Parks over the years. He helped build several cabins and built his own at Lac la Nonne where he spent as much time as possible.
He is survived by his wife of 69 years, Edith, and four children; Carl (Sandy)Jonas, Alfred Jonas, Linda Roth, Gary (Jenny) Jonas. Grandchildren; Josh (Nikki) Roth, Jessica Roth (Brayden), Hailey (Danny) Taylor, Kyla (Rehan) Lalani, Andrea (Anthony) Smith, Lisa Jonas (Luke), Natalie (Reuben) Meyers, Rachel Mulligan (Cameron), Stephen Mulligan (Shayna) and many great-grandchildren.