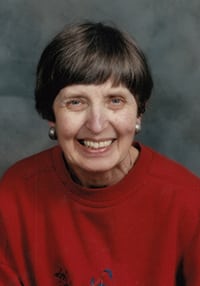 Ruth Elizabeth Langford
On August 18, 2019, Ruth Elizabeth (Leskow) Langford passed away at the Sturgeon Community Hospital in St. Albert.
Ruth is survived by her children Cheryl (Vaughn) Atkinson, Margie Langford (Mike Shrimpton), Marilyn (Dave) Shrimpton, Terry Langford (Wendy Crispin), David Langford, Pat (Lina) Langford, Monica Langford and Dawn Atkin, twelve grandchildren and four great-grandchildren. She is also survived by her sister-in-law Margaret Philip and her family.
Ruth was predeceased by her husband Gary, her parents John and Mary Leskow, and her brother Willard Leskow.
Gary and Ruth had a home in Westmount for over 40 years, and enjoyed spending time at Alberta Beach. In both locations Ruth will be fondly remembered as the "neighbourhood mom." She loved trying new recipes, knitting, weaving and sewing. Her positive outlook and strength of will during her decades long battle with MS serve as an inspiration to all who knew her. She will be truly missed.
Ruth's family is appreciative of the care and support provided at Citadel Mews West during the final years of her life.
A celebration of life will be held in the Parish Hall of the Lac Ste. Anne Catholic Church on Saturday, September 14 from 1:00 pm to 3:00 pm.
In lieu of flowers, donations may be made to the Multiple Sclerosis Society of Canada or the charity of your choice.