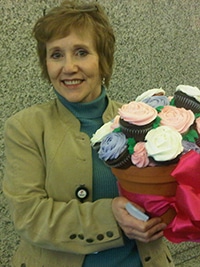 Sandra Arlene Fitzpatrick
It is with a heavy heart that we announce the passing of Sandra Arlene Fitzpatrick on Sunday December 2, 2018 after a battle with Sarcoidosis of the lungs. Sandra, in her own words, had a "beautiful life".
Born in Edmonton on April 20, 1953, she was the oldest of six children. Sandra took her job as big sister to her five younger siblings very seriously; she was their friend, caregiver, and constant. No matter what happened, she was in their corner and they could always depend on their "little redhead" to go to bat for them.
A natural leader, Sandra spent the majority of her career in purchasing, but her true passion was her many volunteer roles within her parish, St. Alphonsus Catholic Church. Sandra happily volunteered thousands of hours over her 40 years as a parishioner, and she considered St. Al's her second home. She especially loved her team of dedicated volunteers- affectionately referred to as Stu's Crew- and their booth at the Commonwealth Stadium, where they worked football games to fundraise for the church.
Sandra will be forever loved by her husband of 40 years, John, and their children Gavin and Sheena. Sandra will live on with her family in the many, many wonderful memories they made together, and the family finds comfort knowing that she is at peace.
Sandra is predeceased by her parents, Bruce and Priscilla Stephens, as well as her brother Michael. She is survived by her brothers Patrick, Henry, and Brad Stephens, as well as her sister Michelle Hampson; numerous nieces and nephews, cousins, and her wonderful friends.
Prayer Service
Thursday December 6 at 7:00 PM
St. Alphonsus Catholic Church
11828 85 Street NW Edmonton
Funeral Liturgy of Catholic Mass
Friday December 7 at 11:00 AM
St. Alphonsus Catholic Church
11828 85 Street NW Edmonton
Interment
Holy Cross Cemetery
14611 Mark Messier Trail Edmonton, AB
In lieu of flowers, Sandra requested that donations are made to the Alberta Lung Association for Sarcoidosis research.