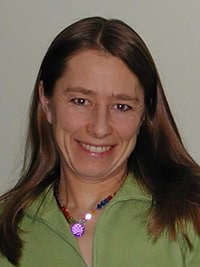 Sandra Leigh (Sandy Hamlin) Haviar
Sandra Leigh (Sandy Hamlin) Haviar, at the age of 44, passed away July 22 2018 in Edmonton Alberta after a long and valiant battle with brain cancer.
She was born May 4th, 1974, the third of four girls to Bob and Bonnie Hamlin in Winnipeg Manitoba and then moved to Woodlands Manitoba.
As a gentle adorable blue eyed blond she won the hearts of everyone she met. Growing up on a sheep farm as well as many trips to Delta Beach provided a back drop for many adventures with her sisters.
The family later moved to Warren Manitoba where the farm adventures continued. The family spent many summers at the cabin at Longbow Lake. This was always her favourite place. Sandra gladly got dragged along adventures with her sisters. She played ringette growing up and excelled at piano.
Sandra graduated Warren Collegiate in 1992 and went on to attend University of Manitoba. Sandra was interested in wholistic healing and took Psychology, she graduated with Honours Psychology in 1996. After graduating she began studying Hawaiian healing methods and travelled to Hawaii a number of times.
She fell in love with the beaches, dolphins, and jungles of Hawaii. During this time Sandra moved to Edmonton. She met Robert in Edmonton and married in February 2006. Patrick was born in 2005, Julian in 2008. The boys were her world. By far her favourite thing was being surrounded by family. Sandra would often be found walking bare foot in her garden. She will always be remembered for her warmth, kindness and gentle spirit.
Sandra will be forever loved and remembered by husband Robert, sons Patrick and Julian and Robert's son Matej, parents Bob and Bonnie, sisters Treva (Chris), Cindy (Kent), Jen (Oscar), Aunt Mary Lou, cousins John (Max) and David and several nieces and nephews.
She was predeceased by her Uncle Frank.
The family would like to extend their deepest gratitude to Dr.Genuis from Millcreek Environmental Clinic, Dr. Mehta and the entire staff at the U of A Hospital, Dr Murtha, Dr Foltyn ,Dr.Sayeed and the entire staff of the Cross Cancer Institute as well as Dr Barton and the palliative care unit that cared for Sandra and ensured her comfort during the last few weeks.
.
Service will be held August 2, 2018 at 2:00pm at Trinity Funeral home 10530 116 Street NW Edmonton
In lieu of flowers donations can be made to The Brain Tumour Foundation of Canada. www.braintumour.ca/6915/donate-now
,