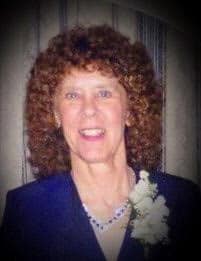 Sharon Elizabeth Potyok
Sharon Elizabeth Potyok of Edmonton, Alberta, passed away on Sunday, September 8, 2019 at the CapitalCare Norwood Hospice in Edmonton, Alberta.
True to her Scottish heritage, Sharon will be best known for her feisty demeaner, sharp whit and although small stature, she was a mighty force. Sharon was born in Moose Jaw, Saskatchewan on June 11, 1943. The birth and death of this beautiful woman, however, is not nearly as relevant as all the days and nights that she lived to the fullest between those dates.
Left behind to carry on Sharon's legacy is her husband of 51 years, Robert, her daughters, Sherry and Terri-Lynne (husband Bruce), and grandchildren Jesse & Kayley (Sherry's children), Aidan & Nicholas (Terri-Lynne's children), Kaine & Marshall (Bruce's children), her great grandchildren Kayla, Adelyn, Dakota, (Kayley's children & Sharyn-Due October 2019), Sharon's sister Sandra (husband Colin), stepsister, Faye, stepbrothers; Jim and Bobby and their spouses, and Godson, Chris (wife Marisol). Sharon is predeceased in death by her mother Sylvia and her stepfather, Gordon, and her special Aunts Ella & Helen and her grandmother Eliza Lammond.
She met Robert in 1968, a young RCAF pilot, and they married in that same year in Moose Jaw. Sherry and Terri-Lynne were born in 1971 and they were quickly posted to CFB Cold Lake AB, CFB Winnipeg MB, and CFB Trenton ON. As a young mother, Sharon continued teaching while completing her Bachelor of Arts degree at the Queen's University. She worked as a teacher in Moose Jaw and Trenton before their final posting to CFB Edmonton in 1982. In 1984 she attended the Correctional Officer Recruit Program and began a career that spans 32 years with Correctional Service of Canada (CSC). Notably, she was one of the first female recruits to have joined the service at the Edmonton Institution.
Sharon was involved in Beta Sigma Phi, league bowling and hosted bridge nights while in Trenton. She found pleasure in playing the piano, needlepoint, playing bingo and antiquing with her long-time friend, Karen, coffee talks with Janet, symphony night with Pauline, and collecting Pendalphins and Beanie Babies. She was committed to her family and took great pride in her daughters and travelled every few years with her sister, Sandra. She was dedicated to her service within CSC and the roles she had, in which she earned great respect amongst her colleagues and even inmates.
Celebration of Life
Thursday, September 19, 2019 from 11:00am to 2:00pm.
Royal Canadian Legion – Kingsway Branch No. 175
14339-50 Street, Edmonton, Alberta
Chaplain Rev. Paul Polonenko and Elder David LaSwisse will be officiating.
In lieu of flowers for those so wishing, memorials can be made to CapitalCare Norwood at www.capitalcarefoundation.net. Please indicate that your donation is to go to CapitalCare CHOICE Norwood, under Dedication Information, click on 'In Memory of' Sharon Potyok.