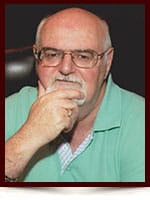 Sheldon William Morrison
Sheldon William Morrison, 61, of Lloydminister, AB  passed away on July 4, 2014 at the University of AB  Hospital, Edmonton.  Born in Baddeck, Cape Breton, he was the youngest son of the late John Philip and Christine (MacLeod) Morrison.  Sheldon was a graduate of Acadia and St Mary's Universities.
Sheldon worked for Nova Scotia Liquor Commission for 25 years.  Upon his retirement, he accepted teaching positions in Alberta and Qatar.  He is survived by his wife Blanche (Dawe), daughter Noreen (Mike), sons Rowan (Sara), Robert and James (Kia) Morrison and seven grandchildren. He is also survived by brothers, Donald, Ian and Kenton. Sheldon was a lifelong teacher who had a great love of sports and travel.
Join us for a celebration of Sheldon's life at Knox Presbyterian Church, Baddeck, Cape Breton on July 17th at 2 pm.  Burial to follow in Breadalbane, PEI on July 19th at 3 pm. In lieu of flowers, donations may be made to the Canadian Cancer Society.