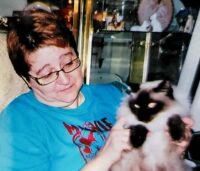 Sherrie Anne Bassie
November 7, 1957
-
December 21, 2021
Sherrie Anne Bassie Born 1957 November 7th passed away 2021 Dec 21st in Edmonton AB cancer took her from us far too soon. Sherrie will be missed by all who knew her she is survived by her mother Sylvia, her husband Ken and 4 brothers Peter Robert Patrick and David.
She will be remembered for all the little things she did that none of us thought about or asked for. Her favorite time of year was X-Mas she remembered everyone's birthdays. She worked with horses and livestock and always had time for cats and dogs. She was a bargain hunter who enjoyed flea markets, garage sales and browsing second hand stores for hidden treasures.
No service was held because of COVID she was cremated. The family asks you to remember her in your own way and if you could donate to cancer research in her name.