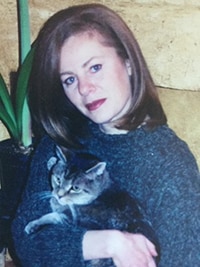 Sherry Lee Campbell (nee Cugnet)
Sherry Lee Campbell (nee Cugnet) passed away at CapitalCare Norwood Palliative Centre on March 30, 2019.
She is predeceased by her brother Jamie Cugnet, sister-in-law Louise Coutu, her father Darryl Cugnet and her step father John deBalinhard.
Left to cherish her memory are her mother Shirley deBalinhard, her uncles and aunts, Ron, Dianna and Orlanda Endicott and Widge Rowden, her cousins Brett, Kelly and Mitch Endicott and Carly and Mike Orton and her step mother Pat Lundstrom.
There will be a private family and friends gathering to celebrate Sherry's life at a later date.
In memory of Sherry, donations can be made to CapitalCare Foundation 10909 Jasper Ave NW Edmonton T5J 3M9