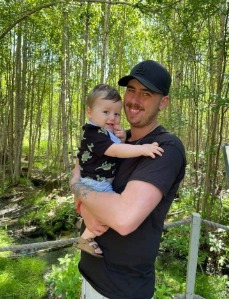 Spencer Charles Morris
July 23, 1999
-
March 29, 2023
It is with profound sadness and heavy hearts we announce the unexpected passing of a cherished son, grandson, father, nephew, cousin and friend to so many on March 29 2023 near where he made his home in Worsley AB.
Born on 23 July 1999 in Halifax Nova Scotia to Tracie Morris Langille and Peter Landry, Spencer grew up in the Dartmouth/Eastern Passage area where at a young age he could navigate the public transit system and get anywhere in the city with his eyes closed. He loved anything Rescue Heroes when he was little, adventures with his Pop, basketball and football, playing with the Dartmouth Destroyers, the times he spent with Jamey out on the job in one of the many big rigs, tractors and snow plows, and could wheel and deal with the best of them!! He attended and graduated Cole Harbour District High School in 2017. Shortly after, he did what so many did and headed out West to pursue employment in the oil fields, where he absolutely thrived, eventually working his way up to driller with his own crew for Treeline Well Services. On Aug 19 2020, Spencer was given what quite possibly was the best title, when he and Antonia became parents to the sweetest little boy, Easton Grey Morris. Everyone who knew and loved Spence, loved watching him be a Dad💙
Spencer is survived by his loving Mom Tracie Morris Langille, step-Dad Jamey Langille, his father Peter Landry, his beautiful son Easton Grey Tagliapietra-Morris and Easton's Mom Antonia, his grandfather Bruce Morris, grandmothers Patricia Morris, Ann Landry and Viny Langille, Clint, Cheryl and family, Kevin, Sherry and family, so many cousins, extended family and friends he cherished back on the East coast as well as those he met while in Alberta.
He is predeceased by his paternal grandfather Bill Landry, Curtis Langille and Watt.
Cremation has taken place and a celebration of life is to be planned for a future date.
We have loved you for 23 years Spencer and will continue to love you and take comfort in the many memories.