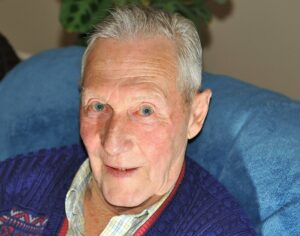 Stanley Thorhudlur Snidal
September 6, 1928
-
August 4, 2022
Stanley Thorhudlur Snidal of St. Albert, Alberta passed away on August 04, 2022, at the age of 93. Stan died peacefully with his children by his side.
Stan was born in Winnipeg on September 6, 1928. The youngest of three children. He worked many odd jobs from helping on the family's small farm, commercial fishing, trapping. He was a lineman with the railroad, worked freight boats on Lake Winnipeg, the DEW line in the arctic. He finally settled down to a career in construction. Where he built highways, mines, many airports, hydro dams and even an entire town from scratch.
He married Ada, the love of his life, on July 29th, 1960.His work ethic and desire to take care of his family had them move more than 30 times to follow work. They settled down in St. Albert in 1976. He retired from Standard General in 1993. They spent many summers out at the farm where he grew up at in Oak Point Manitoba with their family.
He loved the north and the outdoors but wouldn't be what today we call a sportsman, preferring to fish using gill nets or throwing dynamite out of float planes. He told us was OK if your partner is the town Mountie whose motto was "the law stops at the dock".
He survived more than one plane crash. He lived on a diet of butter with extra salt and the occasional rum and coke to help wash it down. After retiring he got back into commercial fishing and gardening for fun. He loved that he could keep everyone he knew supplied with smoked fish and fresh vegetables.
He was predeceased by his daughter Laurel, as well as many of his extended family and friends.
He is survived by his wife Ada; children Larry (Amanda), Alan (Susan) and Tannis, grandchildren Clinton (Kayla), Brian (Diana), Jared, Steven, Jordan and Corey , great-grandchildren Lacey, Jackson, Lillian and Nora, as well as numerous nieces, nephews and extended family. He will be missed by all who knew him.