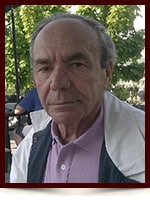 Stelian 'Steve' Slusariuc
January 10 1946- July 9 2016
It is with deep sadness that we inform family and friends of the passing of Stelian (Steve) Slusariuc. After suffering a stroke earlier this year and having a long history of heart and stroke issues, Steve died peacefully in his sleep at his home in Edmonton, Alberta.
Originally from Romania, Steve lived in Edmonton under the loving care of his sister Artemisia and niece Margaret since 2008. Steve enjoyed playing and watching soccer and was a great bowler. He also had a soft spot for animals and was very attached to the family cat Toby. Steve will always be loved and remembered by is his son Liviu, daughter Veronica, grandson Vicente, sister Artemisia, and niece Margaret. Steve was predeceased by his older brother Mihai, father Dimitrie, and mother Margareta.
Funeral Service
Thursday July 28th  2:00pm
Trinity Funeral Home
10530 116 St NW, Edmonton, AB
If you would like to honor Steve's memory, please make a donation to the Heart and Stoke foundation or to your local homeless shelter.
Steve's family loved him dearly and will miss him very much. Dormi în pace Stelian.