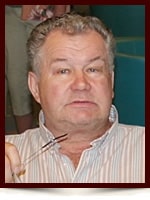 Stuart John Jobson
August 26, 1945 - September 29, 2012
It is with heavy hearts that the family of Stuart Jobson announces his passing at home in Edmonton, at the age of 67.
Stuart is survived by his loving wife, Mariann (nee) Spannier, their children: Dwayne (Suzanne), Dean (Crystal), Lori (Pat) Stevens; their grandsons Tanner, Zane and Brandon, and his only sister Joan (Ron) Spannier. He was predeceased by his parents: John and Violet Jobson.
Stuart was born in Regina and was raised on the family farm in Fort Qu'Appelle. He married Mariann, his high school sweet heart on Oct 9, 1965. Upon his father's passing they took over the family farm and raised 3 children and found the time to drive school bus, work as a mechanic, and help out friends and neighbors when called upon. Loving the farm life, Stu couldn't wait to finish harvest and begin hunting in the fall, putting on endless miles with buddies and sons, rifle in hand. Stuart was an excellent marksman and found success in competitive trapshooting, both locally and internationally. After 17 years of farming and a tour of custom harvesting through the USA, they started a new career in the hotel business that included stops in Wynyard, Guernsey, Regina, and Rocanville. With Stu's engaging personality and willingness to chat, he thrived in this environment and made many lifelong friends along the way. With their children gone, they decided on another adventure and went long haul trucking together. They travelled all through Canada and the US leaving no province or state untraveled. Stu drove his tractor with great skill and maintained a perfect safety record until his retirement from the road. In addition to working hard in these careers, their yearly Hawaiian vacations together were truly cherished.
Stu will always be remembered as a big strong man with an even bigger heart. He was a strong believer of honesty, fairness, integrity and of doing things the right way. He had a very generous spirit that never liked to see anyone go without and was always willing to help someone in need. Dad always said that time stops for no one… He leaves behind a huge void in our lives and will be greatly missed; but never forgotten.
At Stuart's request, no funeral will be held but a private family celebration was held on October 4, 2012 in Edmonton.