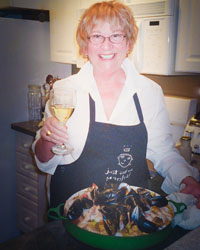 Susan Paula Smith
On September 30th, 2020, Susan ended her eight-year long dance with cancer. Susan died with dignity and grace and in her final days was surrounded and comforted by her husband of fifty years, Scott, her children Paula, Mark (Laura) and her grand babies Julianna and Amelia. Susan was the eldest of six siblings including Billie, Frank, Betty-Anne, Mark and Mary Pat. Susan was predeceased by her parents and brother, Frank (Nordine).
Susan was born to Bill and Norvel Nigro on August 7th, 1943 in Montreal, Quebec. In 1946, Susan moved west to Edson, Alberta. Susan spent her
formative years in Edson and remembers these early years with great fondness.
In 1954, the Nigro family moved to Edmonton, Susan attended junior high and high school in Edmonton before embarking to the Universities of
Alberta and Toronto. After graduating with a Bachelor of Arts in 1964, Susan started work as a social worker for the Province of Alberta. Susan
returned to the University of Alberta to obtain her teaching certificate before returning full circle to her alma mater, St. Joe's High School, where she
taught English until 1972.
Susan and Scott were blessed with two amazing children Mark (1972) and Paula (1975). Susan was utterly devoted to her young family. She spent
countless hours driving her children to the myriad of sports and activities they were involved in including hockey, figure skating, swimming, soccer
badminton, golf, racket-ball, synchronized swimming and equestrian to
name just a few. Susan had endless energy when it came to planning meals, birthday parties, holidays and gatherings with friends and family.
Susan even took a part-time job as a midnight bail hearing clerk to fund entirely the construction of the family outdoor swimming pool which brought
hours of joy and happiness to her immediate family and any child who was fortunate to have lived within a 2-block radius. These years will be
remembered as so wonderfully busy.
When the children were older, Susan became involved in a number of political jobs which included volunteering for Lawrence Decore's successful
mayoralty run and the as campaign coordinator for his subsequent party leadership bids and provincial election. From there, Susan went on to
manage a number of other campaigns. Susan made important political connections along the way but more importantly life-long friendships.
Susan developed an amazing capacity for raising money and ended her work life as a fundraiser for a number of non-profit groups including La Salle, a home and shelter for battered women, in Edmonton. After her working life and while patiently waiting for grandchildren, golf became a focus and passion for Susan. She forged many new friendships and amazing times were had on the patio of the EPGCC.
Susan will be remembered as a bold and strong personality yet fiercely loyal, devoted and loving. She exhibited boundless energy and the ability
to have presence in any room she walked into. She gave endlessly to her family, the community and those in her personal circle. Susan had a knack
for bringing people together, even those with the most unlikely of personalities. She connected with individuals on a personal level and
would always remember a name. Susan holds a very special place in her heart for her close friends and the friendships she cultivated at each stage
of her life. These loving friendships will endure long after her passing.
"Go fishing Scott!!  Tight lines my beloved" - love Susan
The family is grateful to Dr. Chafe, Dr. Lim, Dr. Valji, Dr. Scarfe, and Dr. Severin as well as the Hospice and Palliative Care Program for providing
support through-out. Thank you to all the staff of 9Y of the General Hospital.
The family is especially grateful to longtime friend and family physician Doctor Christine Sharek for her constant care, compassion and love.
In memory of Susan, please consider making a donation to the Glenrose Rehabilitation Hospital Foundation; a wonderful place of healing, support
and strength in the Edmonton community.
Susan will be cremated and Father Michael McCaffery will perform a private family service.