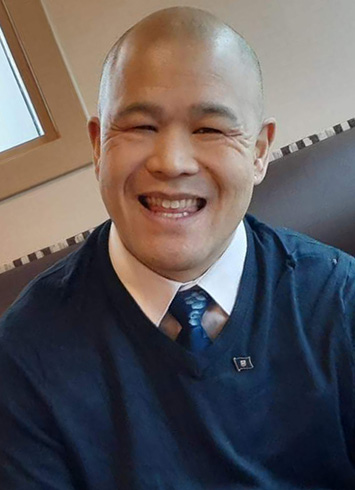 Terence Nicholas Choo
August 6, 1979
-
January 17, 2023
Terence Nicholas Choo (born Fort McMurray, Alberta).
It is with broken hearts that we are announcing the passing of our beloved Terence Nicholas Choo on January 17, 2023, at the age of 43 years old in Edmonton, Alberta. Terence leaves behind his mother, Elizabeth (step-father Timothy), father, Frank (step-mother Dana), and siblings Melissa, Titus (sister-in-law Leona), Anastasia, and many extended family members.
A lot of the relationships Terence developed were because of who he was. Everywhere he went, he brought light, warmth and laughter. Terence was such a kind soul who had a welcoming personality; it automatically made people gravitate toward him. He was fiercely resilient, determined and passionate about living independently and pursuing his dreams. Terence had hopes for the future, and he shared that hope by doing his best to live his life to the fullest. In 2014, Terence decided to go back to school and graduated from the Business Administration program through NorQuest College in 2019. He was nominated by the students and faculty for the NorQuest Shine Award for his efforts, attitude, commitment and being a positive role model in his post-secondary program. After that, Terence worked at the Premier's Office as a Workforce Policy Branch Assistant Administrative Support, this job brought Terence so much fulfillment, and he was very proud to work there. In both school and work, the students, faculty, and co-workers made him feel so welcome and included, which gave him a feeling of belonging, and this meant so much to him.
One of Terence's greatest joys in life was singing. If you knew him personally, if one of his favourite songs came on, you might have been graced with him serenading to you. He also loved learning new languages, cooking, and skiing. Terence was very creative. He loved to draw and express himself through fashion. Terence did not shy away from bold prints, bright colours and beautiful jewels, which reflected his personality.
Terence loved Jesus and always spread kindness wherever he went. He was understanding, caring and forgiving to whoever crossed his path. He was respectful, patient and sweet to everyone who was in his life. Additionally, Terence is remembered as an incredible brother and son. He loved his family unconditionally, and he was protective and compassionate. Terence brought so much joy to his family with his singing, willingness to help and thoughtfulness.
We will deeply miss you, Terence, and we love you so much. Your warm light and gentle spirit will remain with us forever.
Celebration of Terence's Life
Tuesday, January 31, 2023, at 1:00 PM
Trinity Funeral Home
10530 116 St, Edmonton, AB
Those who cannot attend the Celebration of Terence's life can view the service by clicking <<here>>.