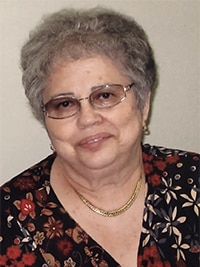 Teresa De Col
Teresa De Col passed away peacefully early Saturday morning on February 13th, 2021 after a brief unexpected illness.
Born to Giuseppe and Maria (Tripodi) Pace in the town of Petilia, Policastro, Italy on July 9, 1945, the second oldest of four children. Her journey to Canada began at the age of 7 when her family made the long trip across the Atlantic by ship, arriving in Halifax during the bitter cold of January 1953. They travelled across Canada settling in Edmonton Alberta. Many years later she met the love of her life Carlo S. De Col, married January 13, 1962 celebrating 59 years of marriage and was blessed with two children.
Teresa was predeceased by her parents Giuseppe and Maria, her older brother Aldo and his wife Judy. She is survived by her husband Carlo; children Ernie (Barb), Dina (Neil), her sisters Bruna (Carmelo), and Loretta (Carmine); 4 grandchildren Cheryl (Mark), Nicole (Jacob), Christopher and Julia (Brad); 10 great grandchildren and many nieces and nephews.
Our beloved Teresa cared deeply for her family. She was very giving and loved baking for the holidays, especially for her children and grandchildren. She will be forever remembered for her hospitality, selflessness, and generosity.
Visitation (COVID restrictions in effect)
6:00PM - 8:00PM Thursday February 18, 2021
Trinity Funeral Home
10530 - 116 Street NW, Edmonton, Alberta
Private Mass of Christian Burial (COVID restrictions in effect)
11:00AM Friday February 19, 2021
St. Dominic Savio Catholic Church
Interment
St. Michael's Cemetery
Livestream
February 19, 2021 at 10:45AM
https://youtu.be/HUyHOvQi5j8