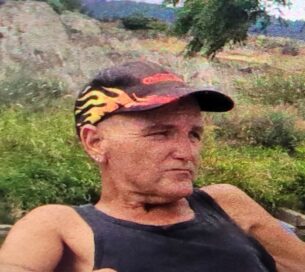 Terry Piggott
March 14, 1960
-
January 6, 2023
On the afternoon of January 6th, 2023, Terry Piggott, of Parkland County Alberta, left home for his final journey.
Grieving his departure but celebrating his freedom are his wife and soulmate of over 34 years, Dawn, his 4 sons, Travis and his partner Samantha-Liegh and their kids Elena, Eli and Walker, Zach and his partner Katie and their kids Mya, Savanna and Caleb, Johnathan and Grayham, bonus daughters Alison and her partner Derek and her daughters Kaylee and Brianna, Annie and her daughter Kylia, and Linda and her daughters Sora and Kiera.
Also grieving is Elena's mom Destany and her family who have become our family as well. Also, his sister Susan and her partner Ken and his brother Bruce and his wife Elaine and their families, and Dawn's sisters Sally, Rose and her husband Vern, Brenda and her partner Gerald and their families, and lots of good lifelong friends and many work associates.
Terry was diagnosed with a rare type of brain cancer which stole the last 2 years of his life. If he could, he would tell you to weigh your options carefully because sometimes the treatment is not worth the pain. Enjoy what you have while you have it.
A huge thank you to Darren and his partner from Parkland EMS who not only showed us the most genuine compassion but also were open and honest with us every step of the way. That was truly refreshing and most appreciated.
He died at home as he wanted surrounded by love.
Thank you to Randee from Trinity Funeral Home for showing us true compassion and guiding us down this final road.
Cremation has taken place.
Terry was a private man and did not want any type of service. We will hold a celebration in the summer so that his family and friends can take him for one final ride on his beloved motorcycle.
In lieu of flowers, if you so desire, donations to your local food bank, homeless shelter or animal shelter in his honor would be appreciated.
Hug your loved ones and never waste an opportunity to tell them how you feel.
My sweet man, we have had our ups and downs, I have liked you and sometimes not so much, but my love for you remains as strong today as it started out in 1988. You still make me weak in the knees and I am so glad I walked away with you that night so many years ago. In the words of a great band called Orleans, you will always be "Still the One"
I truly cannot believe how crushing this sadness and emptiness is.
I love you from the very core of my soul, and I miss you so very much!
Ride hard my love!
Love you always, D ❤️