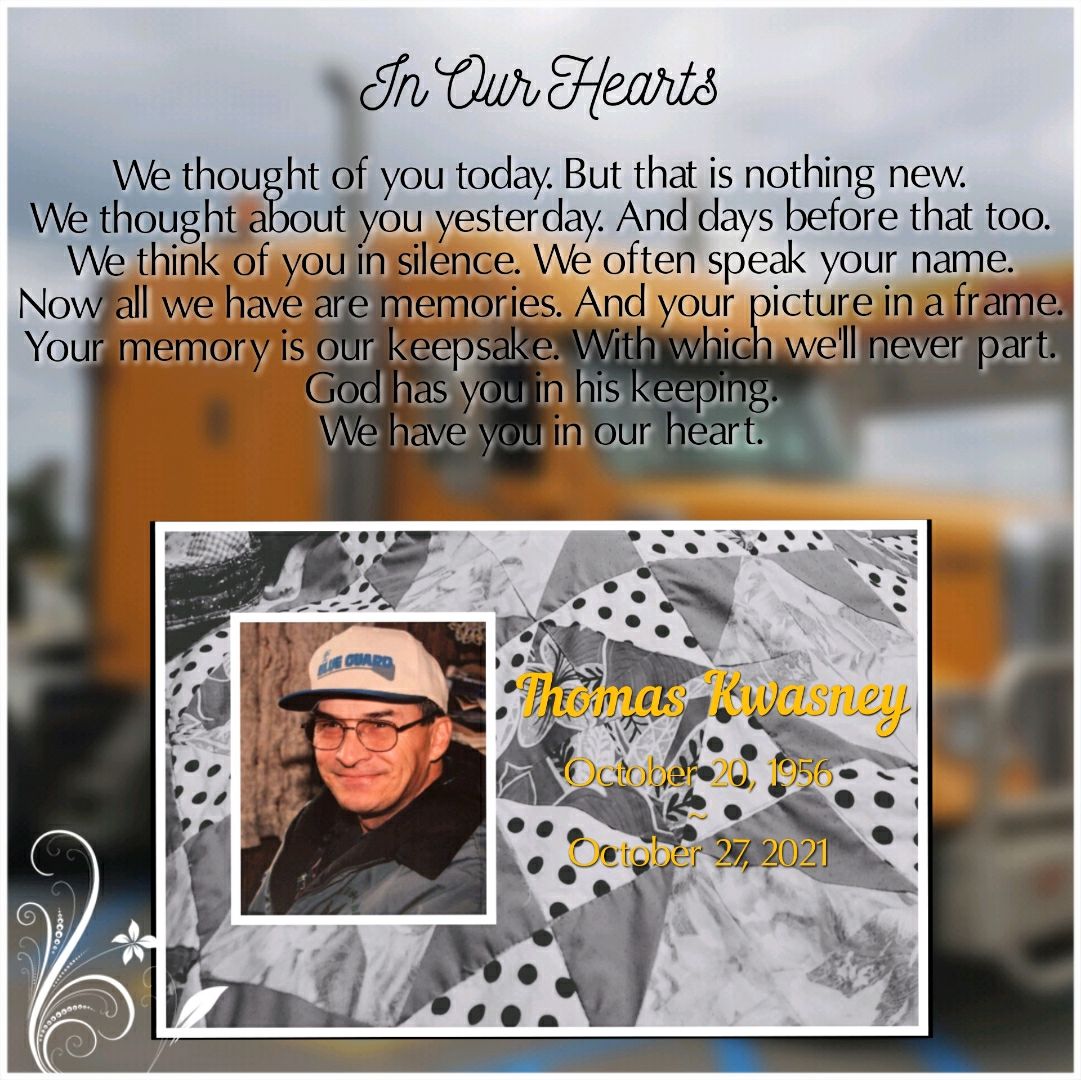 Thomas William Kwasney
October 20, 1956
-
October 27, 2021
1 Corinthians 13:1-7❤️❤️❤️❤
It is with heavy hearts that the family of Thomas (Tommy) William Kwasney announce his passing on October 27, 2021 at the age of 65 in Edmonton AB with his family by his side. He passed away at George's House peacefully after a long fight with cancer.
Thomas is survived by his partner, Beatrix and daughter Alicia and his most favourite grandson Ace, who loved him dearly and called him Papa; his dear sisters: Hazel Dzurka, Helen Kwasney and Doris Kwasney; brother and sister in law Fred & Glenda Kwasney and numerous family, nieces and nephews.
He was predeceased by his loving parents Steve and Annie Kwasney; siblings Irene Porter and Adolph Kwasney and his Aunts and Uncles.
Thomas was the most gentle loving kind man. He had the biggest heart and would help anyone he met .
He was known for being a hard working man and for being so meticulous at everything in life. From his work which he did so well and his vehicles that he kept so spotless. He loved his Big Rig and his half tons as he said. He loved animals, from the animals on the farm in his young days to his cats and dogs especially Juno. He loved his Canadian beer and perogies and playing cards. When you saw his sneaky grin you just knew he was going out on you. This was always followed by his famous chuckle and how he would say  "that's nothing". He let nothing bother him. He loved life and his family and friends. His presence was a blessing to everyone who loved him .
He grew up in the High Tor district and Porcupine Plain where he loved to work and spend time with his family. He enjoyed his bush work and working at the Alfalfa Dehy Plants in Porcupine Plain and Hudson Bay. He worked there till they closed down which led him to Grassland, Alberta where he became a truck driver hauling wood chips for Arrow Trucking. He loved being a truck driver and he loved loved his work family. The long hauls and listening to his old school country music cruising down the winding roads listening to Johnny Cash and other classics. He loved the scenery and freedom, man he was a hard worker. He missed driving his truck so much when he got cancer. He missed his work family at Arrow Trucking in Grassland.
We will all miss his phone calls and weather updates. He never let his speech get in the way of communicating or accomplishing what he wanted to do. As challenging as it was to understand him sometimes, we will miss those sometimes one sided conversations. We know he cared about us and wanted to hear our voices too.
You are in God's loving arms, till we see you again Tommy. Say hi to everybody for us.
We will always carry special memories of you in our heart forever...
In lieu of flowers, memorials donations may be made to George's House - 780 424 8335 or the Cross Cancer Institute. We would like to send special thanks to all the staff at George's House for taking such good care of him towards the end of his journey and a special thanks to Dr. Cara Bablitz and Dr. Sookram and all the staff at Canadian Cancer Society and so many more.
Thomas 's wish was to be cremated. His ashes are to be shared between his family in Porcupine Plain, Saskatchewan where they can do a celebration of life and some to his work family where he can be spread out in the bush in Grassland, AB where he worked for 20 + years. The remainder for Beatrix to take to the mountains in Jasper, AB
Rest in peace Thomas..You'll be greatly missed by all who loved you ❤
Weep Not For Me
Weep not for me though I have gone
Into that gentle night
Grieve if you will, but not for long
Upon my soul's sweet fight
I am at peace, my soul's at rest
There is no need for tears
For with your love I was so blessed
For all those many years
There is no pain, I suffer not
The fear is now all gone
Put now these things out of your thoughts
In your memory I live on
Remember not my fight for breath
Remember not the strife
Please do not dwell upon my death
But celebrate my life .