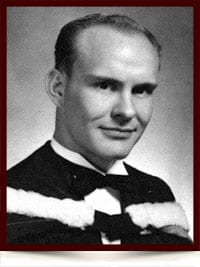 Thomas William McPherson
Thomas William McPherson, known to all as "Bill" passed away after a courageous battle with Mesothelioma, on July 18, 2017 at the age of 77 years.
Born in Estevan, Saskatchewan, he attended the University of Manitoba and graduated with a degree in Mechanical Engineering.
In 1963 he began his career with Alcan in Arvida, Quebec, and later worked in Kingston, Ontario and Fairmont, West Virginia. In 1971 he became Chief Engineer at Ipsco in Regina, Saskatchewan.
In 1988 he moved to Cambridge, Ontario with Courtice Steel and St Mary Cement in Bowmanville, Ontario and ended his career in Burnaby, British Columbia as General Manager of Apex Industrial Movers.
Bill was a strong family man with an adventurous soul. His family benefitted from many camping adventures across North America and gained special memories in each place lived.
He is survived by his children, Angie Grzyb (Mike), Heather Baumgardner (Darren), Brenda Bilton (Gord), Jim McPherson (Zoe McDougall), Marie McPherson (mother of his children) and grandchildren Bree and Shea Bilton. His brothers and sister Don McPherson(Elaine), Alec McPherson (Carolyn), Gord McPherson, Betty McPherson, Doug McPherson(Laurie) and many nieces, nephews, aunts, uncles and cousins. He is predeceased by his beloved father and mother James and Dorothy McPherson.
A Celebration of Bill's life will be held on Saturday, August 26th in Weyburn, Saskatchewan.
Memorial donations in memory of Bill can be made to the Canadian Mesothelioma Foundation – www.cmfonline.org.