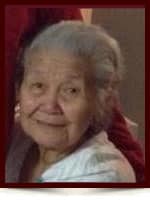 Trinidad 'Nanay Trining' Asiatico
With heavy hearts, our family announces the passing of Trinidad "Nanay Trining" Asiatico, on January 13th, 2016 at 93 years old. She passed peacefully knowing she was loved and surrounded by family.
She is forever cherished by her 8 children Ernesto Asiatico (Avelina), Aurelia Asiatico, Benjamin Asiatico (Salvacion), Peregrina San Jose (Norberto), Melchor Asiatico (Olivia), Concepcion Gadon, Jose Asiatico (Corazon), Annie Mayuga (Edwin), 27 beloved grandchildren, and 20 great-grandchildren. She will be joining her husband Juan Asiatico.
Nanay Trining was a loving and the most caring person you would ever meet, with her ever growing family being most important to her. She loved to cook and crochet in her spare time while she was still able to, as well as teach her many grandchildren the important values of family. Even as her health deteriorated throughout the years, her fighting spirit and personality always shone through. Her fight truly pushed her on until her last breath, and she will be dearly missed by so many.
The family would also like to thank the amazing nursing staff and doctors at the Grey Nuns Hospital for the care they had provided for her final days with us.
Viewing
Friday January 22, 2016 1:30 pm - 2:30 pm
Trinity Funeral Home
10530 116 St NW
Edmonton, Alberta T5H 3L7
Funeral Service
Friday January 22, 2016 2:300
Trinity Funeral Home
10530 116 St NW
Edmonton, Alberta T5H 3L7