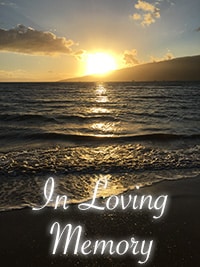 Valerie Martell
b. July 23, 1943
Gunn, Alberta
d. February 21, 2021
Onoway, Alberta
Valerie Martell (formerly of Calgary, AB) has passed away at the age of 77 after a lengthy illness with her husband and family by her side.
Valerie was raised and resided in various coal mining towns in Alberta. She was a true "coal miner's" daughter. Circumstances led her to reside in Calgary for most of her life. It is there she found the true love of her life, her husband of 49 years, Ralph.
Valerie will be fondly remembered for her love of books. Her love of reading was passed onto her children. She loved having family and friends around and relished in telling stories in a rich and humorous way. Valerie was an excellent baker and she loved sharing her treats with friends and family while regaling events of her youth.
Valerie loved the outdoors and would take every opportunity to go on a family hike or picnic. She loved exploring new places or showing old places of her youth.
She loved games of all sorts. She was happiest at beating you in games of Yatzee or Scrabble. Valerie loved game shows and this became her favourite pastime in her physically declining years. She especially loved "Jeopardy" and "Wheel of Fortune."
Although Valerie's physical health had been waning for several years she maintained a positive attitude with a great sense of humour. This resilience became an inspiration and a source of support for countless people. Even in her suffering she took the time to lend an ear and give inspiration and motivation when it was needed most.
Valerie's spirituality, humour and her willingness not to give up gave her several more years to be with us.
Valerie is survived by her devoted husband Ralph. She is also survived by her loving children Troy, Trevor(Ina), Jamie(Dan) and Jason(Lara). Valerie leaves behind her grandchildren who she cherished beyond anything else, Sunny, Jesse, Ben and Clary.
She is also survived by two brothers, Curtis(Debbie) of Coleman, Alberta and Cameron (Marge) of Barrhead, Alberta along with several nieces and nephews and grand nieces and nephews whom she loved visiting and loved them as her own.