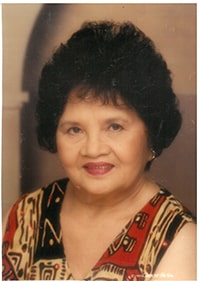 Victorina de Castro
February 4, 1928 - July 3, 2019
It is with great sadness that suddenly on July 3, 2019, Victorina (Nina) de Castro passed away peacefully at Sturgeon Hospital in St Albert at the age of 91 years.
Nina was born in the Philippines on February 4, 1928 and migrated to Winnipeg in 1979 with her husband Benjamin and her two youngest children Virgilio (Gil) and Victoria (Vicky).
She was predeceased by her husband Ben in 1989, her oldest son Arturo in 1993 and her youngest son Gil in 2006 and is survived by her oldest daughter Teresa (Jim), sons Rene and Noel (Leony) and
daughter Vicky, numerous grandchildren, great-grandchildren, close relatives and friends.
Nina moved to St. Albert from Winnipeg to be near her daughter Vicky and resided at Northridge Lodge for 6 years since 2011. She moved back in to live with her daughter in 2017 until her death.
Nina was well-liked by everyone she met and lived life as fully as she could through simple pleasures of watching TV, playing Nintendo, going to casino and playing bingo, constantly snacking, attending and
chatting at friends' gatherings. At a younger age, Nina loved to socialize with close friends and attended numerous parties as well as traveled a lot.
Family, friends and others whose lives Nina touched are invited to a celebration of life service which will be held at the St. Albert Catholic Church 7 St. Vital Avenue, St. Albert AB on Friday July 12, 2019 at 10 am.