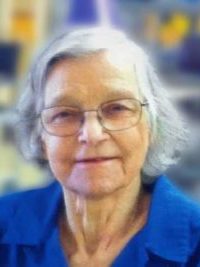 Virginia Darline Rozeboom
On January 15, 2021, Virginia Darline Rozeboom (nee Munson), passed away at the age of 93, six weeks after her death was deemed to be imminent in a nursing home under lockdown for COVID-19. During this time, her children were allowed unlimited in-person visits with her, for which they were all grateful.
Virginia is survived by her children William (Gloria), Steven (Sandra), Cynthia (Paul), and Mark (Anne), grandchildren Julia, Justin, Wyatt, and Teagan, sister Ina Harris (nee Munson), sister-in-law Maxine Rozeboom (nee Mitchell), and half-sister Sharon Meek. She is predeceased by her son Karl, husband William Rozeboom, brother Richard Munson, and half-brother Michael Munson.
Virginia's childhood in the US Midwest was materially poor, but rich in experience of the natural world. Her childhood home was adjacent to a waterfall with an abundance of exposed geoids, on an unmarked dirt trail from a gravel road, miles from the nearest town. Memories of the solitude and natural setting of her childhood home inspired her own family's acquisition of a wooded quarter section property in Alberta with a cabin by a lake, on an unmarked dirt trail from a gravel road, miles from the nearest town.
Virginia was a nurse specializing in geriatric care, first registered in 1954 in the State of Illinois and later registered in 1980 in the Province of Alberta. Nursing school in Iowa was the start not only of her professional career, but also of a lifelong friendship with her then-roommate Maxine, who became her sister-in-law when they married brothers William and Earl. They communicated regularly until Virginia's passing.
Virginia had broad ranging interests with a love of books and ideas and people. She delighted in meeting people with varied interests and specialized knowledge and hosting informal meet-ups to connect them to others in her orbit. She assisted on local campaigns for progressive political candidates, lobbied for green policies, and volunteered at a number of places, including the John Janzen Nature Centre, Mustard Seed Community Support Centre, and Edmonton Vietnamese Center.
Virginia was an excellent cook, with an impressive collection of cookbooks and a legacy of great recipes for family meals and desserts that continue to be made by her children. She was a prolific writer of letters, more than 20 book-length journals of her life experiences, and poems with pages upon pages of rhyming couplets that flowed out of her, preformed and complete. She also expressed herself through soap-making, painting, pottery, and photography.
In keeping with her wishes, cremation has taken place following a private service.
Donations in lieu of flowers may be made to the Mustard Seed Foundation (theseed.ca) or Edmonton Nature Centres Foundation (encf.org).
To send condolences, please visit trinityfuneralhome.ca.